APEGA's Top Stories: A Year in Review
As we close out the year—and one century of service to the public—join us for a walk down memory lane as we revisit some of the stories that meant the most to us and to our members. Over the next few weeks, we will highlight APEGA's top-read stories and our member profiles as we get ready to dive into our next 100 years of leadership, innovation, and excellence.
Get to Know Your APEGA Peers
Ever wonder what motivated your professional colleagues to become engineers or geoscientists? Or why an international applicant decided to move to Alberta? In our final Year in Review segment, we want to share the stories of several of our APEGA members.
APEGA membership is diverse, and the reasons people entered the professions are as varied as the individuals themselves—an interest in and affinity for science, a desire to design or to research, a childhood dream.
We enjoyed getting to know these five members, and we hope you will too!
APEGA's Volunteers: Providing Expertise and Inspiration
As part of APEGA's continued year in review, we want to bring your attention to our outstanding volunteers.
Last year, we had more than 2,200 volunteers donating more than 52,000 hours. They are behind almost everything APEGA does.
They protect the public and advance the professions by participating on our boards and committees.
They inspire future engineers and geoscientists by sharing their skills and passion for science at our outreach events like Rock & Fossil and the Science Olympics.
They mentor new professionals embarking on their careers.
They lead professionals in their communities by serving on their local APEGA branch executive committees.
APEGA relies on the expertise and enthusiasm of every one of our volunteers. When the pandemic forced the cancellation of in-person events and meetings, our members quickly pivoted, helping out at our virtual events. Truly, we couldn't call it self-regulation without them and the work they do.
Have you been looking for a volunteer opportunity and a way to give back? Check out Volunteering at APEGA.
Read about some of our volunteers and how they've made a difference.
Learning from Each Other: APEGA's Mentoring Program
This week, we're highlighting our amazing mentors—the work they do and the ways they give back to their communities and to APEGA. APEGA's mentoring program recognizes that career development is a key component in any mentoring relationship and that both mentors and mentees can benefit from knowledge transfer. Mentoring can also count toward your Continuing Professional Development Program requirements. If you're unfamiliar with the program, visit the Mentoring Program page.
Click below to read our mentoring profiles and learn what some of our mentors and mentees have been up to this year!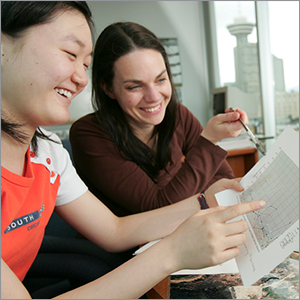 A Century of Success
In 2020, APEGA celebrated 100 years of engineering and geoscience accomplishments. Though many of our planned centennial events and activities were cancelled due to the pandemic, the exceptional achievements of our professional engineers and geoscientists live on through the 100 stories written to commemorate a century well built.
These stories will help you reminisce about the past and shine a light on the future of the professions. From building prosperity through scientific research, to advancing environmental and animal protection, to launching Alberta to the forefront of medical innovation—our members have accomplished so much in the last 100 years.
Check out the top five most-read stories from our centennial website and then explore the other 95 stories that document the history of the professions in our province. You'll be glad you did.