Member Profile: Vinayak Vijayan, P.Eng.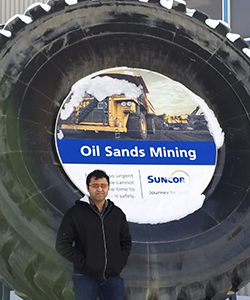 Employment Status
Process engineer
APEGA
Designation: P.Eng. (2020)
APEGA volunteer since 2018
Education
Bachelor's degree in chemical engineering from the University of Mumbai, India
Master's degree in chemical engineering from the Indian Institute of Technology Guwahati, India
Professional Experience
Process engineering
Employers
Reliance Industries Ltd. (India)
WorleyParsons (India and Alberta)
Suncor Energy (Alberta)
Languages
Continuing a professional engineering career in Canada
"I came to Canada for two reasons: oil and gas, and the cold temperatures."
What attracted Vijayan to consider Canada as the next step in his career? For a man who spent his life living and learning in India, it was chance to finally experience winter and the opportunity to work with experts at the forefront of the oil and gas industry.
"Having worked in India for a while, I learned that many of the engineering processes involving oil and gas are developed in North America," says Vijayan. "Since I came to Canada, I've been working with more process-simulation software in the oil and gas industry. One equation that is now used globally, the Peng-Robinson equation of state, was developed right here at the University of Alberta. Those were some of the reasons that inspired me to come practise engineering in Canada."
The long road from international applicant to Alberta P.Eng.
Vijayan's advice for international applicants? Trust the process and understand the core idea of what it means to protect the public.
Vijayan was fortunate to have both his bachelor's degree and master's program from India considered as Canadian equivalent degrees, which allowed him to complete the applicant process faster. All that was left for him to do was complete two years of Canadian engineering work experience—combined with the five years he spent working in India—to earn his professional engineer status in Alberta. Although he couldn't sign and verify his work when he first moved to Canada, he was able to find employment to gain Canadian experience by working under a professional engineer.
"I could have completed the international application sooner, but I wanted to be more comfortable with Canadian standards and not rush the process. There is a moral, social, and legal responsibility to practise ethically in Canada, and that dedication to the public trust is what I think sets Canadian engineering apart from other countries—including the U.S. and Australia," says Vijayan.
Want to hear the latest APEGA news?
Subscribe to our weekly ePEG newsletter to hear about other great members, and to stay on top of interesting stories and APEGA news.