APEGA Logo & Guidelines for Use
The APEGA logo is available for use once you have received written (hard copy or digital) permission from APEGA.
Examples of projects that can use the APEGA logo include sponsorship banners, business cards, signage, online articles, and custom-printed clothing. Some variants of the APEGA logo are restricted to particular groups, such as professional members, permit holders, or branch volunteers, while others can be used by outside organizations conducting business with APEGA or featuring APEGA in their content.
When you request approval to use the APEGA logo, you must include what you will use the logo for, including a mockup or draft of its intended use. Be sure to specify which logo characteristics you require, and what dimensions the file should be in. Samples are provided below to use in your mockup or draft.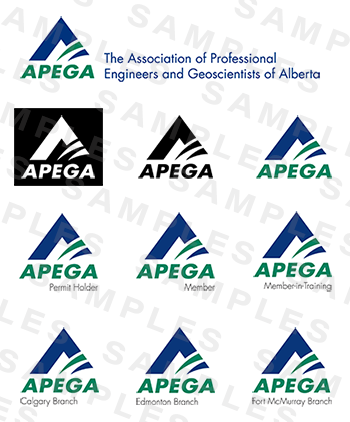 Available Logo Characteristics
Logo Variant
Corporate logo, acronym, and full name
Corporate logo, acronym only
Permit holder logo
Member logo
Member-in-training logo
Branch logo
Logo Colour Profile
RGB colour
CYMK colour
Monotone black
Monotone white
File Format
JPG (raster)
PNG (raster)
PDF (vector)
AI (vector)
EPS (vector)
Logo Use Standards
To have your logo use approved, your proof or draft must meet the below standards. Samples sent that do not meet these standards will be denied until they are corrected.

Correct File Type
When reproducing the logo very large or very small, or in media that require mathematical precision (such as laser-cutting or engraving), then a vector file must be used. Vector files can be reproduced at any size without loss of quality, but they are not compatible with all publishing tools or media.
When reproducing the logo for common paper printing or web use, then a raster image should be used. Raster images should be used at the same size defined in the file properties. A limited amount of shrinking will not affect the quality much and is acceptable. However, raster files must never be enlarged. If you need a larger image in a raster format than you have, contact APEGA again for the correct size.
If you are unsure which file type your project requires, check with the person handling your project's printing or production.

Adequate Spacing Around the Logo
Logo placement must maintain a minimum clear space at all times (indicated by the grey area below). The clear space is equivalent to the height of the capital letters making up the word APEGA. This clear space is to be equal on all sides of the logo.


Consistent Logo Sizing
The logo is never to appear in a condensed or extended form. However, the logo may be scaled proportionally when in a vector format. The logo should not be scaled smaller than 0.25" in width. When the APEGA logo and full Association name tag are used together, they should always be scaled in direct proportion to one another. To maintain readability of the Association name, the logo width should be no smaller than one inch at the baseline of the word APEGA.

Appropriate Colour Use in Logo Reproduction
Full colour: For use in four-colour (CMYK) process publications
Two colours: A two-colour version of the logo, using Pantones 294 and 340.
Monotone black or white: In black and white publications, a black version of the logo or a white (reversed out of black background) version may be used based on the design of the print piece. When printing on paper stock other than white, it is strongly recommended that the black version of the logo be used. These guidelines apply to web applications of the logo as well. It is recommended that the black or reversed version of the logo be used when the background is any colour other than white.
For black and white printing, use either the all black or all white logo only — the colour logo should never be reproduced in greyscale.

Logo Requests and Questions About APEGA's Logo
For further information or to obtain a copy of an APEGA logo, contact APEGA's Communications Department at [email protected].