The PEG Magazine, now yourPEG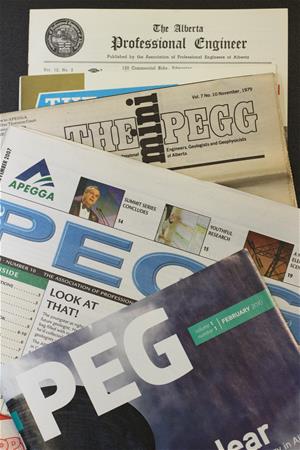 The PEG is the official publication of APEGA, published online for members and other stakeholders. A weekly electronic newsletter called the ePEG complements The PEG.
The PEG has been a fixture of APEGA since our earliest days. It has taken many forms, aligning itself with the information-consumption trends we have seen in our readership and the publishing industry as a whole. Created originally as a newsletter, it transitioned to a newspaper in 1969 and then to a glossy magazine in 2010. In 2017, as magazine publishing as a whole transitioned to a more digital world, The PEG ceased print production and became a totally digital magazine, but still with a layout reminiscent of a magazine.
In our centennial year, we are reimagining The PEG once again, this time as a section of the APEGA website, called yourPEG. It's still in the early stages, but we're proud of its progression and the initial feedback we've received has been positive.
yourPEG will continue to feature news and articles about things our members care about, such as:
APEGA's regulatory work on behalf of the public and members
APEGA's services and benefits that support members and their practices
APEGA's progress in meeting strategic goals set by APEGA Council
APEGA's members and their volunteering and professional successes
We hope you'll join us for yourPEG. See some our latest articles below, and bookmark this page to stay current with our latest news and stories from the world of engineering and geoscience.
PEG Magazine Archives
Want to re-read past issues of the PEG? We've uploaded the last 5 years for you!
In Memoriam
APEGA extends our deepest condolences to the families, friends, and colleagues of our respected members who have passed away.
Upcoming Events & Opportunities
The following events and opportunities are not coordinated or endorsed by APEGA, but may be of interest to members.
Movers & Shakers
APEGA's members and permit holders who have been recognized with awards and funding from other organizations.
What do you do when you've reached the summit of your profession? You keep going.

As communities around the world celebrated International Women's Day this year, Ania Ulrich, P.Eng., PhD, had an extra reason to hold her head high: Women's Initiative Edmonton was presenting the 2019 Women's Leadership Award—and her name was on it.

Few people embody the diverse nature of engineering research as much as the 2019 recipient of the Centennial Leadership Summit Award does. The association presented APEGA's most prestigious honour to Nigel Shrive, P.Eng., PhD, on April 25 in Calgary, celebrating a distinguished career that includes research of skeletal and cardiovascular systems—and masonry.
The Watch
News from Alberta, Canada, and the world as it relates to our members and anyone else interested in our professions.
Tweets by APEGA_AB