Member Profile: Dr. Suzanne Kresta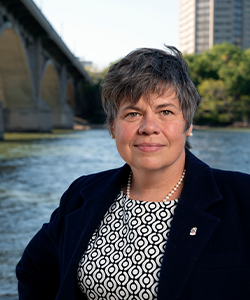 Employment Status
Dean of the College of Engineering at the University of Saskatchewan
APEGA
Designation: P.Eng. (1993)


Education
B.Sc. in chemical engineering from the University of New Brunswick (1986)
M.Sc. in chemical engineering from the University of Leeds (1988)
PhD in chemical engineering from McMaster University (1992)
Professional Experience
University of Alberta (professor of chemical and materials engineering, and acting associate dean of research and planning in 2014)
DuPont Engineering Technology Group (consultant)
CoSyn Engineering (consultant)
Institut National Polytechnique in France (professor)
Employers
University of Saskatchewan
Volunteer Highlights
APEGA Council (2010–2012)
Women in APEGA (2011–2013)
Various boards and committees (1993–2013)
Chemistry and Competition: The Start of an Engineering Career
Never underestimate the value of competition.
Dr. Suzanne Kresta, P.Eng., realized she had a flair for chemistry as she was locked in a grades battle with one of the smartest students at her school. She came out on top in chemistry, igniting a passion for chemical engineering that would eventually bring her to the College of Engineering at the University of Saskatchewan as dean.
Writing the textbook on industrial mixing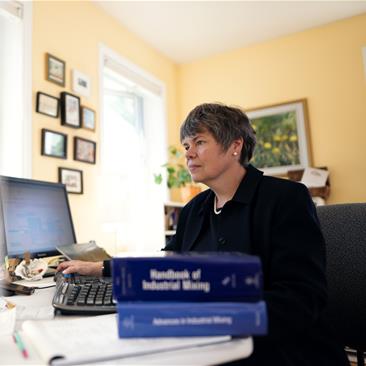 Dr. Kresta built her career researching turbulent mixing—a blend of chemical and mechanical engineering—and for 26 years as a professor at the University of Alberta, she was instrumental in helping the field grow. Working internationally with her colleagues Edward Paul and Victor Atiemo-Obeng, she published the Handbook of Industrial Mixing: Science and Practice in 2003 and turned an emerging field of study into a well-defined science and engineering practice.
"I'm interested in impellers and fluids, how they interact, and what impact that has on chemical processes. It has a lot of pieces that have to fit together: competing rate processes and high-end math that help us create solid, robust designs with massive, scale-up factors. All of this work was a really good fit for the provincial needs of the economy in Alberta during the 26 years I worked there. It's been a fabulous ride," says Dr. Kresta.
"I had no history of engineers in my family, but it was such a great fit—and I love it. I love every minute of it!"
From Professional Engineer to College of Engineering Dean
"It's the people who carry the future forward."
Throughout her career, Dr. Kresta was always able turn complex ideas into something tangible—just like any engineer worth their stamp. She applies that same systematic approach to solving the complexities that come with her role as Dean of the College of Engineering at University of Saskatchewan.

"I'm more responsible for forming policy, deciding strategic changes of direction, guiding program development, looking for where we need to invest in faculty complements to develop the research needs of the future. It's very high level and I'm still building things. However, now I build ideas, people, and programs."
Want to hear the latest APEGA news?
Subscribe to our weekly ePEG newsletter to hear about other great members, and to stay on top of interesting stories and APEGA news.