Work Experience Requirements for Geoscience Applicants
Applicants seeking licensure as a Professional Geoscientist (P.Geo.) must submit their experience through the Work Experience Record (WER). This electronic form is accessible through their myAPEGA portal and is only available to applicants who have started a Professional Geoscientist application.
The Work Experience Record (WER)
The Work Experience Record (WER) is part of an applicant's online application submission. It details their geoscience work experience and it's their opportunity to describe the application of technical theory and practical experience during their career.
The APEGA Board of Examiners (BOE) places strong emphasis on:
The ability to apply geoscience principles
The demonstrated technical proficiency
The APEGA Board of Examiners will consider increased technical competency and increasing levels of responsibility when evaluating this experience.
Areas of Experience the Board of Examiners (BOE) Looks for

Application of Theory
At least two (2) years of Application of Theory in the applicant's respective discipline, which must include:
Selection solutions and solving problems
Preparing and checking designs and interpretations
Evidence of sound technical judgement and practices
Demonstrated familiarity with the use and application of pertinent technologies, procedures, systems, and programs
While an applicant's experience can include the collection and analysis of information and data, it should not be the major component of their experience.

Management
An applicant's management skills must include:

Managing project resources
Planning, scheduling, budgeting, and cost control
Developing team skills and understanding professional and business ethics
Keeping appropriate ethics
An applicant's experience can include developing an understanding of corporate structure, legal aspects of contracts, quality-assurance programs, and cost-impact studies.

Practical Experience
The practical experience must include:
Being exposed to work-site operations
Recognizing limitations in designs, interpretations, or recommendations, and understanding the application of pertinent codes and regulations
Understanding the interdependence of disciplines, systems, and activities, and developing working relationships

Societal Implications
An applicant's experience must show evidence that they are familiar with:
Safeguards
How engineering or geoscience benefits the public
The roles and responsibilities of regulatory agencies in your specific field of professional practice

Communication
An applicant's communication skills must include:
Writing technical reports
Making presentations to management, peers, or the public
Different Experience from Degree
If an applicant's experience is a field other than their degree (i.e., a geology graduate working in engineering) the APEGA Board of Examiners may require the applicant to obtain:
Substantial academic upgrading
Experience beyond the four (4) year requirement
Both academic upgrading and additional experience
The requirement for academic upgrading or additional experience will depend on the APEGA designation for which the applicant is applying. Their experience should be related to their degree.
The APEGA Board of Examiners may also give credit for pre-graduate work experience and post-graduate work experience.
Read about Pre-Graduate Work Experience Read about Post-Graduate Work Experience
The Geoscience Application Process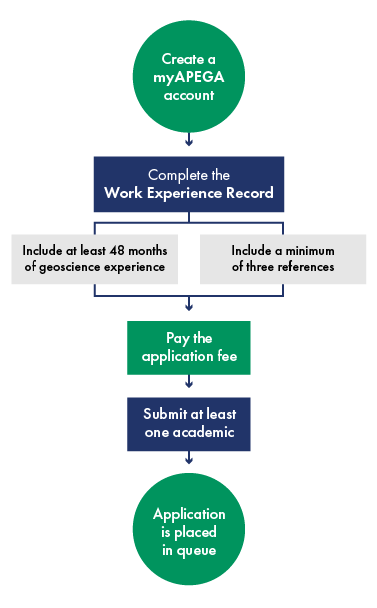 1. After creating the myAPEGA account and uploading the required information, the applicant will then begin to enter their work experience in the online e-Forms (Step 6) of the application process
2. Complete the Work Experience Record (WER)
a. Include at least forty-eight (48) months of geoscience experience
Must be in reverse chronological order
Separate work periods by job title or employer not by project
Identify the role, responsibility, and types of geoscience activities for each role
Specify the types of design codes and standards used
Describe how they adjusted for cold temperatures in their design, if applicable
If the work experience is from outside of Canada, applicants will describe the familiarity with Canadian practices within their profession
List ALL gaps in employment including parental leave, unemployment, education, or non-geoscience work. Applicants do not need to list any details or references for these positions. If they do not include all gaps, APEGA will contact the applicant requesting the missing information. This will delay the processing of the file
b. Include a minimum of three (3) different references
At least one reference is expected to be a Professional Geologist (P.Geo.)
At least 36 months needs to be referenced by a P.Geo. supervisor
If providing multiple references for one position, applicants must create an additional duplicate work record for each reference
3. Applicants must pay the application fee within 90 days of starting the application, otherwise all the provided information will be deleted, and they will be required to restart the process
4. Once submitted, APEGA requires that at least one academic must be submitted to us within 90 days of paying for the application. If no academics are received within 90 days of paying for the application, it will be withdrawn
Once at least one academic has been received, the application will be placed in queue to be assigned to a Registration Program Administrator (RPA). The RPA will process the WER and send out the Reference Questionnaires. Once all the questionnaires and all final requirements have been submitted to the RPA, the application will be forwarded for review.