Member Profile: Dr. Janaka Ruwanpura, P.Eng., PQS, MRICS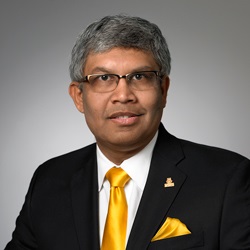 Employment Status
Vice-Provost and Associate Vice-President Research (International), University of Calgary
APEGA
Designation: P.Eng. (2012)
Branch: Calgary

Education
Doctor of philosophy in construction engineering and management (2001)
Master of science in construction management from Arizona State University (1997)
Bachelor of science in quantity surveying from the University of Moratuwa, Sri Lanka (1992)

Professional Highlights
Board of Directors Leadership Award, Canadian Bureau of International Education (2020)
International Achievement Award, City of Calgary (2020)
Elected Chair of the Commission of International Initiatives of the Association of Public and Land Grant Universities (2019)
Canada Research Chair in Project Management Systems (2007–2013)
Founding Director, Centre for Project Management Excellence, Schulich School of Engineering, University of Calgary (2005–2012)
How did you find your way to engineering?
"It was a good choice. I don't know whether it was the right choice, but I made it be the right choice."
Growing up in Colombo, Sri Lanka, Janaka Ruwanpura, P.Eng., PhD, was a driven student who excelled in his studies—but his future was still uncertain. Each year, the country's public universities accepted only 6,000 new students based on the results of high school exams, with preference given to those living outside of the capital city.

To make matters trickier, students had to choose an academic stream—like arts, commerce, or mathematics—early in their high school studies and write final exams tailored to their academic focus, with the intention of studying the same area in university. "It was a very competitive process," says Dr. Ruwanpura.
At the suggestion of his father, a physician who had been educated in the same system, he chose the mathematics stream—it was his best subject and would increase his chance of gaining a university spot. If he didn't, he would have to wait a year to rewrite the exams and try again.

Fortunately, he was accepted to the University of Moratuwa to study quantity surveying—which is akin to cost engineering in Canada. The program balanced civil engineering coursework with law, micro- and macroeconomics, project management, and more. "You look at engineering with a more holistic view," he explains.

The program was a good fit for Dr. Ruwanpura, who excelled in his coursework. For four consecutive years, he was "Batch Top"—the top student of the year—and upon graduation he found work in quantity surveying consulting and as a lecturer at the university. Finding a passion for teaching and a deep interest in research, he decided to become an academic.

This led Dr. Ruwanpura to graduate school in the U.S.—Arizona State University, specifically—by way of a Fulbright Program scholarship. From there, he headed to Canada to earn his PhD at the University of Alberta before building a successful academic career at the University of Calgary.

How has your career evolved over the last two decades?
"Whatever challenge you take with a positive mindset, you can achieve it."
While teaching engineering had drawn him to academia, Dr. Ruwanpura's focus shifted more to research in construction engineering and project management. In 2007, he became a Canada Research Chair (CRC) in Project Management Systems, an appointment that allows Canadian academics to spend more time advancing their research. His position was renewed for a second five-year term in 2012, but in 2013, he resigned to take a senior leadership position at the university.

"I was at a peak as a CRC, doing good research and working with industry," he remembers. Accepting the role of vice-provost international, a time-intensive commitment, was a "strategic risk," he says—but it proved to be the right one. During his tenure, he grew his unit from 10 to 40 people, increased the budget six times over, and brought transformative growth and excellence to the University of Calgary, along with six excellence and innovation awards for internationalization. "I was supported very well by the senior administration of the university and by the faculties, and I had a great team."

In 2020, Dr. Ruwanpura was appointed to a dual role as vice-provost and associate vice-president research (international).
Do you have advice for engineering students or new engineers?

"Keep going."
Engineering is a career path that can lead a person in many different directions, says Dr. Ruwanpura—but to seize the opportunities, engineers need leadership skills. He encourages students to hone those skills early on. "It will help you down the road to take on challenges, take risks, and look at the bigger picture."

In fact, risk-taking is a critical part of building a fulfilling career, he says, and staying in one place can make a person "too comfortable." He suggests continually seeking new career challenges, especially if you find yourself bored in a role, and honing your soft skills. And just as important—you can't forget about the people.

"You're hired for your technical skills as an engineer, you will be promoted for your leadership and management skills, but you may be fired for your lack of people skills."
Want to hear the latest APEGA news?
Subscribe to our weekly ePEG newsletter to hear about other great members and stay on top of interesting stories and APEGA news.