Applying to Become an APEGA Member
The Association of Professional Engineers and Geoscientists of Alberta (APEGA) serves the Alberta public by regulating the practices of engineering and geoscience on behalf of the Government of Alberta through the Engineering and Geoscience Professions Act.
One of APEGA's core regulatory functions is to license members (individuals) and permit holders (companies) to independently practice engineering and geoscience in Alberta. Non-Licensed individuals must work under the supervision of a member.
myAPEGA Portal
Before you can start an application with APEGA you will need to create an account through the myAPEGA portal. This account will be your main login for applications and maintenance of your information.
Once you have created an account, read through all the application types below. When you are ready to start your application follow these steps on your dashboard in your myAPEGA portal: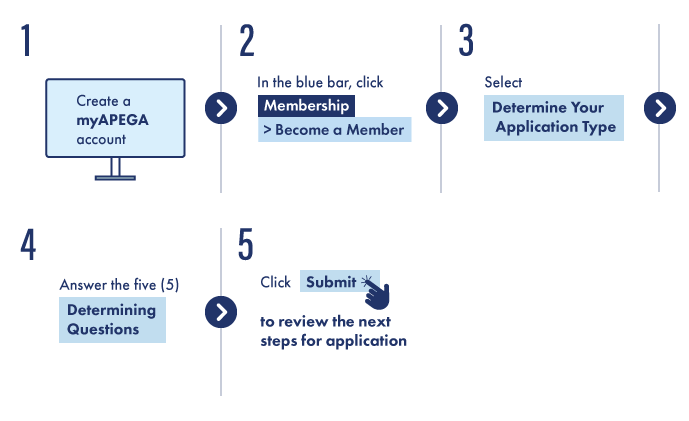 If you don't already have one, create a myAPEGA account.

After logging in to myAPEGA, click Membership in the blue bar, and then Become a Member.

Select Determine Your Application Type.

Answer the five questions given that will identify which type of application you need.

Once you've verified you are able to apply to the type of membership you want, click the Submit button.

You'll be able to review the next steps for your application type. Follow the instructions to complete your application.
APEGA Membership Types
There are four types of memberships with APEGA that you can apply for.
You can also get an overview of the different membership types and their requirements for licensure from a printable reference document.
Professional Member
This type of member has the experience and education to practise engineering and/or geoscience without limitation. This member is designated as a Professional Engineer (P.Eng.), Professional Geoscientist (P.Geo.), or both.
Professional Licensee
This type of member may practise within a clearly defined scope of engineering or geoscience specific to the individual's experience and education. This member is designated as a Professional Licensee (engineering) (P.L.(Eng.)) or Professional Licensee (geoscience) (P.L.(Geo.)).
Licensee
This type of member has met all requirements for an engineering or geoscience licence, similar to a professional member, but is not a permanent resident or Canadian citizen. This member is designated as licensee.
Member-in-Training
These members have met academic requirements but need more work experience to qualify for full membership. They are designated as Engineer-in-Training (E.I.T.) or Geoscientist-in-Training (G.I.T.).
Communicating with APEGA
As part of our mandate to public safety, APEGA uses a detailed and thorough review process for all applications. This process can take up to 12 months (see more about our estimated time frames by application type). We know application delays can be frustrating. APEGA is committed to efficiency and high standards in our processes and work quality. We make every effort to process applications in a timely manner.
APEGA fosters an environment of respect. We will ensure our communication is professional, prompt, and courteous. As part of the good character requirement of applicants, we expect the same level of professional communication from those we serve.
Member Profiles
Get to know APEGA's members. We will be featuring some of our amazing members in this space, so check back often!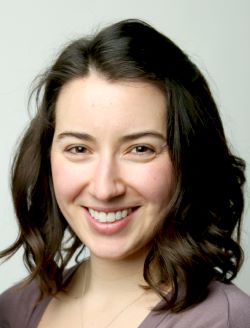 Natasha Vallee, P.Eng., MBA
Professional engineer Natasha Vallee's passion for science and figuring out how things go together led her to the engineering field. Her ability to juggle a career and a growing family encouraged her to stay.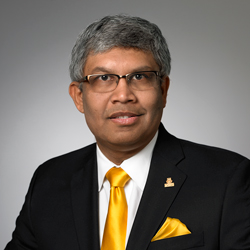 Janaka Ruwanpura, P.Eng., PhD, PQS, MRICS
Growing up in Sri Lanka meant beating the odds—and the competition—to secure a coveted spot at a university. Dr. Ruwanpura wasted no time.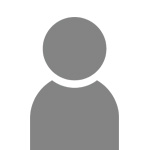 Who will we feature next?
Do you know an APEGA member that inspires you?
Contact [email protected] to start the conversation!