Join Your Resolute Regulator
APEGA is a community of pride, and it's a place of roles and rules.

George Eynon, P.Geo., FGC, FEC (Hon.), current Alberta-director of Geoscientists Canada, welcomes students and new graduates of geoscience as they register with APEGA. He invites them to pore over the stores of knowledge of their predecessors, tracing footsteps and leaving their own.
A sparkling enthusiasm
Eynon brims with energy and delight for his craft. Even after more than 45 years of service, he talks about geoscience like he's just discovered something novel and thrilling, akin to the zeal of searching for a piece of glittering pyrite on the beach. He's fostered this enthusiasm throughout his career by surrounding himself with geoscientists and engineers who operate in a similar vein—a collegial group of members who work to constantly improve their professions.
He considers having an association of professionals in charge of their own regulation as the greatest privilege of all.
Service for the greater good
Eynon knows a little something about leadership and representation of the profession. He served as APEGA's 100th president in 2020–2021, the 10th geoscientist to have the role, and he's been an APEGA councillor and a member of various boards and committees.
Registering with APEGA, he explains, puts new geoscientists on track to grow their careers. "The sooner they register and fulfil the requirements, the sooner they can get their professional designation. Most importantly, [registration with APEGA] will help them understand how their work affects the world around them and ensure they abide by the ethical standards of the profession."
He also stresses, "It's the law!"
"Most importantly, it will help them understand how their work affects the world around them and ensure they abide by the ethical standards of the profession."
Rules and roles by which we abide
APEGA regulates the professions on behalf of the Government of Alberta through the Engineering and Geoscience Professions Act, legislation aimed at protecting the public interest and maintaining public welfare. "I think students studying geoscience and geoscientists need to understand they have a legal obligation to join APEGA if they're going to practise. They need to be qualified professionals to work, and they have a responsibility to set that standard for the next generation of geoscientists. We have a unique opportunity to own our profession."
He explains that APEGA is not a technical society like the Canadian Society of Exploration Geologists or the Canadian Society of Petroleum Geologists. "It's a regulatory organization. Furthermore, through the responsible practice of self-regulation, APEGA members build strength in the professions, protect the public welfare, and safeguard the earned trust of Albertans."
A responsibility for the future
Eynon says it's also particularly important for teachers and professors to help their students understand how to best meet their responsibilities and operate within with APEGA's ethical guidelines. He explains up-and-coming geoscientists-in-training have a legal responsibility to register with APEGA if they are practising geoscience, even if they work for a permit holder. It's through this personal responsibility that safety is preserved.
"It's a fundamental concept in our Act that we are acting in the public interest. Making sure something is safe is operating in the public interest, making sure we do our jobs properly, and making sure a project is not going to fail."
Teamwork: the propellant of self-regulation
"We have such a privilege as geoscientists and engineers. We are given the job by the government of regulating ourselves and our peers. The government trusts us to do this, and we must do it appropriately as geoscientists and take the responsibility seriously."
Engineers and geoscientists must work together to ensure buildings won't collapse and wells won't leak—they must be painstaking to maintain safety in the workplace, explains Eynon. "The two professions of engineering and geoscience are different. However, there is a great deal of overlap and collaboration."
"The two professions of engineering and geoscience are different. However, there is a great deal of overlap and collaboration."
Geoscience has become safer—for us and for the environment—throughout the decades. Seismic data are collected with geophones instead of dynamite, and photos have replaced rock samples. Groundwater is protected in wells with multiple sets of cement casings. "We're studying geoscience in a less invasive way, both in geophysics and field geology."
Eynon says this creates an opportunity for public education. "When you drill, quite often the people living close to the well are worried, and ask questions like, 'What is this going to do to my water? Is the drilling going to create an earthquake?' We have a real obligation, a role as geoscientists, to make sure we are answering these questions." He stresses that community members near these activities deserve to know what's going on and what safety measures are in place. "It takes a professional geoscientist to do that, in my estimation."
A privilege preserved
Throughout his career, Eynon has had a voice in geoscience regulation, and he wants to let upcoming geoscientists know self-regulation—regulation by professional peers through public trust—is a privilege preserved through their participation.
This participation, he explains, ensures your voice resounds in matters concerning the profession and geoscience remains represented within APEGA's decision-making processes. He says you can accomplish this by volunteering on statutory boards and committees, voting (or applying to be a candidate) in the annual Council election, or giving feedback on practice standards, for example.
Registrants can also participate in APEGA's various other offerings:
Join to thrive
Geoscience graduates can register with APEGA as geoscientists-in-training (G.I.T.s). Once they have the appropriate work experience and have passed their necessary exams, they are eligible to become professional geoscientists. "Then you can put that highly regarded P.Geo. after your name," beams Eynon.
He says he wants the community of professional geoscientists and G.I.T.s in Alberta to feel the pride and camaraderie that comes with being active participants in the self-regulation process. "As a geoscientist, you really need to consider yourself a professional. Putting the professional geoscientist designation after my name is something I'm really proud of—not just of my role, but of my profession as a whole. I want all these new graduates to come and join me in this pride."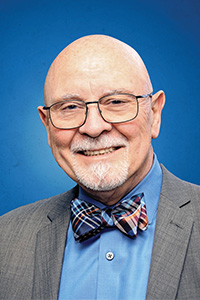 George Eynon, P.Geo., FGC, FEC (Hon.)
Apply Today to Be a Geoscientist-in-Training
Read More about Alberta's Professional Geoscientists