Lockstep to a Liquid Future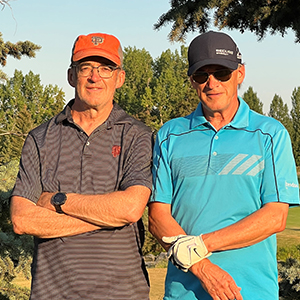 Well-worn sneakers crunch in a parallel pattern, trees blur, lit green by the peeking sunshine, each boy's loud breath echoes the other's. The Kingsmith brothers have been in lockstep since their university years.
"I remember vividly going running for the first time with Kelly. He was the first person I ever ran with—for me that's where it probably started to galvanize, when I suddenly came to the realization that he wasn't this young twerp, he was a decent guy. I really started to appreciate Kelly," smiles Kim Kingsmith, P.Geol. He and Kelly Kingsmith, P.Geo., share a chuckle. Kim says before that moment they hadn't connected much, what with him being the second oldest sibling and Kelly the second youngest in their family of five children.
To Kelly, Kim was a beckoning force, inviting him along pathways marked by many of what he refers to as his pillar decisions, his great turning points in life. He even chose the profession because he discovered a stack of Kim's geology textbooks when he was trying to choose a career. "I did my first year of university and I had to declare a major, and I didn't know what to do. I was moving into Kim's old bedroom, and I saw this stack of books and said, 'wow! I could probably save $200 if I took geology because I've got all the books'—not a word of a lie, that was the extent of it."
On pace to a dual win
Their decades-long professional run has been just as synchronous. They speak highly of one another's unique skill sets and talents, and their mutual support and opportunity-sharing has propelled them to success. They are the definition of a complementary pair.
Kim describes Kelly as the technical mastermind, one of the most detailed technical geologists he's ever seen. Kelly describes Kim as an excellent leader and exceptional decision maker, as demonstrated by the executive roles he has taken on throughout his years of work. "I like to think that since Kim and I have worked together, it's balanced out quite well.
In 1990, Kelly developed an oil and gas prospect in southern Alberta and partnered with Kim, who sold it to an oil and gas company, who drilled the discovery well. They share a royalty on their project to this day, with three wells drilled for gas, and recently they've had the oil zone drilled. "The teamwork was great—it was almost magical how it all worked out with the timing, and what I offered and what Kim offered. It came together so nicely, and it's something I'm very proud of. He's my big brother and he's looked out for me professionally. He's played a big role.
A marathon of responsible liquid disposal
In 2007, after working as an exploration geologist and geoscience consultant for 31 years, Kim had the opportunity to consult on water disposal with Secure Energy Services, and in 2016 he became an employee. He says when he began working in fluid disposal, the opportunity is what interested him, but that's changed over the years. "I found it to be a very, very interesting niche. Dealing with waste fluids in a responsible fashion is very important, especially in terms of the environment and for the well-being of the oil and gas industry.
He explains waste fluids are generated from all sorts of different sources, but they have a lot in common: they can't be used for anything else, can't be discharged at the surface of the Earth, and must be dealt with safely and permanently.
Kelly extends a passion for the environment into his work. He remembers reading about a river surface undulating in rapid orange flames due to petroleum product pollution in the '60s. "That really stuck with me, and having been in oil and gas exploration for 30-some years, it does feel good to contribute to a greener industry.
A gait to the underground stores
Reservoirs underground will contain one or more of three things: oil, gas, or water. When producing oil and gas, almost all reservoirs will also produce water in variable amounts. "It all comes up to the surface, and then you need to find a home back underground for all of that produced water, and it's really significant in volume," explains Kim. The brothers describe how horizontal drilling, which requires water to drill large fractures underground, has made safe water disposal paramount. "When you frack these, you put enormous amounts of water and sand in, and what goes in will ultimately come back out. It's got mud and silt and sometimes chemicals in it, along with formation water."
The waste fluid requires filtration and chemical treatment before disposal for one reason in particular: chemistry. Without filtration and chemical mitigation processes in place, some reservoirs and wells would be rendered unusable due to reactions between different elements, some naturally occurring, and some a part of the drilling process. The brothers explain one of the most common chemical reactions with some of the worst consequences occurs when barium mixes with sulphur. Barium is a naturally occurring element within formations and can be in drilling mud. "If you mix that with naturally occurring sulphur, which occurs all the time in the subsurface, you get barium sulphate, which is non-soluble and can gum up surface facilities, pipelines, wells, and the reservoirs," teaches Kim.
Kelly explains that mitigation processes help prevent these types of chemical reactions, which can be more of an issue in Western Alberta in the deeper portion of the Western Canadian Sedimentary Basin, where disposal zones are not as plentiful, and you must search deeper and use more complex analyses to find and define disposal sites.
A warmup and a cool down
The brothers explain when they're doing their job, groundwater protection, waste fluid containment, and avoiding induced seismicity are of the utmost import. "We put a concerted effort into making sure fluid disposal is done safely and responsibly." They also encourage others to do the same—Kim says he will talk to anyone who wants to listen about responsible disposal—they just spoke on the topic at the 2022 Canadian Society of Petroleum Geologists Convention in Calgary. Kelly is looking forward to using his technical skills for water disposal in the carbon capture and sequestration industry. "I would like nothing more than to finish off my career with some input on that side of the profession."
For the first time, the Kingsmith brothers seem to be running in different directions. Kim is retiring from full-time work, focusing on consultation, and perfecting his golf game, and Kelly is aiming to put his stamp on the next green energy transition. Yet, one suspects their footfalls will once again land in tandem cadence to shake things from the ground up.
Learn More About Geoscience