Meet the President: The Ballet of Business
In this two-part Meet the President series, you'll gain insight into what defines APEGA's current president, Lisa Doig, P.Eng., MBA, FEC, FGC (Hon.) personally and professionally. This week, she explains how the skills she honed in her ballet classes growing up translate to the boardroom as a business advisor, a professional engineer, and APEGA's seventh female president.
The second part of this series was published in August 2022.
Professional engineer and business advisor Lisa Doig, MBA, FEC, FGC (Hon.), APEGA's newest president, twirled through ballet classes when she was young, powering each graceful movement with determination, discipline, and focus.
This training would remain relevant many years later as she entered the fields of engineering and business—she implements these skills into the choreography of excellence in leadership.
Empowered by direction
Born in Edmonton, Alta., Doig spent her formative years travelling the world. Her father's employment with an oil service company carried him and the family eastward to Libya—where she escaped the hot desert sun by swimming in the Mediterranean—and Iran, Singapore, and Indonesia. Back in her hometown in time for high school, Doig had been exposed to more culture and language than many of her peers—and fewer frigid Canadian winters.
"We would visit Canada in the summertime," she says. "I thought the country was great—until I experienced snow. I was a little less fond of the snow," she laughs.
As she inched closer to graduation, Doig started thinking about her university ambitions—she would be the first person in her extended family to attend post-secondary. She thought she might go into business, pursuing planning and leadership roles to forge meaningful, tangible results.
However, after a university open house piqued her interest in engineering, Doig decided on a different direction: "The people, the content, and the experiments in the engineering program were so interesting," she remembers. "I knew I could take engineering and business and put them together." Doig had no engineering role models in her life but trusted her passion and interest.
She enrolled in electrical engineering at the University of Alberta, setting her plan in motion. "Electrical engineering seemed difficult, and I thought if I learned the hardest thing, I could master anything. That's how naïve you are when you're young," she smiles. "Then you get older, and you realize so many things are much more complex than they look—not just engineering."
With her professional designation in hand, she spent the next decade gaining experience in roles of increasing responsibility, starting in plant operations and process control, and then leading teams focusing on developing clean technology and the programs to support them. In 2000, she earned her master of business administration from the Ivey School of Business at the University of Western Ontario.
Choosing a school outside her home province was a conscious choice. "In Alberta, there are a lot of energy-based oil and gas professionals. I wanted to get an alternative perspective and make connections in a variety of industries. I wanted to gain a different outlook from those who were also doing their MBA."
Cultivating alternative views
Perspective has played a principal position throughout Doig's journey. First, she was a child experiencing more of the world than many others her age, then a business leader and executive advisor, building long-term relationships in multi-disciplined environments. An eager volunteer in her professional and personal communities—"I love the energy you get from helping others"—she has long been surrounded by differing viewpoints.
As the head of APEGA Council, and its seventh female president in its 102-year history, she shares her decades of earned and learned perspective with members, permit holders—and the next generation of ambitious professionals.
"Being elected to this position means forward progress. Daughters of my friends and colleagues—many of them don't have female role models in engineering or in business. Now, they have both. There's still room for improvement—visibility helps."
From the ballet barre to the lead seat at the boardroom table, Doig has spent her lifetime cultivating determination, discipline, and focus, and now she's directing these skills at making sure the professions take a sure-footed leap into the coming year.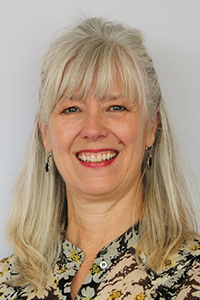 Lisa Doig, P.Eng., MBA, FEC,
FGC (Hon.)
APEGA Council President
2022–2023