Voters Choose 2022-2023 APEGA Council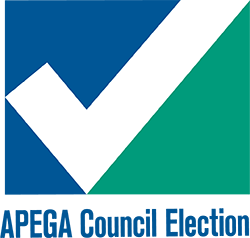 Voters have spoken in the 2022 Council election, choosing Manon Plante, P.Eng.—a champion of active participation and engagement—as their 2022-2023 president-elect. Plante will serve in the president-elect role for one year before becoming president for the 2023-2024 term.
The 2022-2023 incoming president is Lisa Doig, P.Eng., who was voted onto Council last year as president-elect. Joining her will be Tracey Stock, P.Eng., who was voted in as vice-president for the 2022-2023 term. Outgoing President Brian Pearse, P.Eng., will move into the role of past-president.
Four other professional members were voted in as councillors:
Lorna Harron, P.Eng. (newly elected)
Walter Kozak, P.Eng. (re-elected)
Dean Mullin, P.Eng. (newly elected)
Wendy Shier, P.Geo. (newly elected)
Jason Vanderzwaag, P.Eng., will serve a one-year term to fill the vacancy created by Stock becoming vice-president.
The new president and councillors will be sworn in during APEGA's annual general meeting (AGM) on April 22, 2022.
APEGA thanks outgoing councillors David Johnson, P.Geo., and Geoffrey Kneller, P.Eng., whose terms expire at the AGM.
The 2022 Council election ran from February 7 to March 10, with 8,056 members casting their votes—a 14.5 per cent voter turnout.

Related Links