Automating the Land
Dr. Rafiq Ahmad, P.Eng., sees the best in systems. He leverages all the useful parts, sloughs off the useless, generates maximum efficiency.
"Farming is one of the least automated industries," he explains. "That's where I see a lot of opportunity."
For him, this opportunity comes through creating an aquaponics system for the future. Aquaponics is an agricultural method in which fish waste provides nutrients for hydroponically grown plants, which then clean the water to enable the fish to thrive in their environment.
He is the founder and director of the world's first aquaponics learning factory—the Aquaponics 4.0 Learning Factory (AllFactory)—at the University of Alberta's Faculty of Engineering, where he teaches as an assistant professor in the department of mechanical engineering.
An efficiency maestro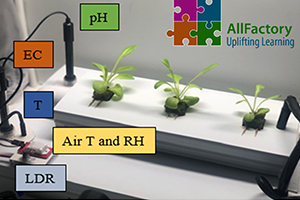 AllFactory is one of two labs he currently directs—in 2016, he began a laboratory for intelligent manufacturing design and automation (LIMDA), which focuses on 3-D printing, robotics technologies, and system design and development. When agriculture industry professionals approached him to develop a racking system for aquaponics in LIMDA, he took on the opportunity with so much zeal, he improved the system's productivity threefold.
The satisfied customers soon returned, asking if Dr. Ahmad could develop more new technology for aquaponic systems. After receiving a $1.2-million grant from the Natural Sciences and Engineering Research Council of Canada, he opened AllFactory as a full-fledged factory-in-a-lab concept. "I was absolutely fascinated by the fact that it's a complete ecosystem, a complete natural environment where plants get their food from fish, and then plants clean that water, and it goes back to the fish. I love working with green technologies that can help save the environment—especially this project, a smart, sustainable manufacturing production system based on Industry 4.0." Industry 4.0 is the fourth revolution in industry based on digitization and cyber-physical systems.
The AllFactory team is in the process of fully automating the aquaponics industry while educating engineering students and producing exemplary research. The factory represents a realistic manufacturing environment for education, training, and research. "The word 'learning' indicates the development of competencies, while the 'factory' defines the realistic manufacturing department," tells Dr. Ahmad. "The focus is to bring experts from different domains to work on different areas, partnering with industry leaders to help sustain those environments. We are creating a better research program and a better future for aquaponics."
Nature melds with machines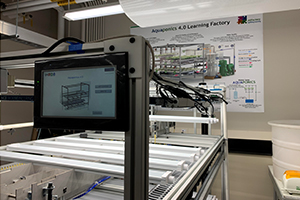 Dr. Ahmad says aquaponics and vertical farming is a new area of study for him. "As a mechanical engineer, I had to completely rethink about how to use existing robotics technology." He took well-established methods used in industries such as car manufacturing and applied them to agriculture.

AllFactory began its journey growing strawberries and leafy, green plants such as lettuce, sustained by tilapia or goldfish. His team is currently working on robotizing each step of the aquaponics process, such as seeding, where a robotic arm chooses a seed and places it in a grow bed. He explains the process is complex as the robot must work with multiple seed sizes and plant them at the correct depths.
Once the plant is growing, it's transported robotically into one of five growing areas. The areas expand to accommodate different levels of plant size, and plant development and health are rapidly assessed by cameras and software at inspection stations. Finally, the plant is robotically harvested and packaged, fulfilling a role predominantly completed by human efforts and accomplishing each task with maximum efficiency.
He and his team are also developing sensory technology to monitor crops and processes, and to collect data to aid in decision making. A system that monitors plant size and weight, predicts plant growth rates, and helps determine the most efficient growing environment will use the data collected by the sensory technology, and poor performing plants will be replaced with better quality ones, leading to improved production. The team is also considering how to ensure all the energy within the environment is used optimally.
Technology to improve the ecosystem
Dr. Ahmad moved to Canada—the place he calls the "land of opportunity"—to complete these types of projects. He achieved his bachelor degree in mechanical engineering in Pakistan and his master's degree and PhD in manufacturing systems in France, and he conducted his post-doctoral research in manufacturing automation in Luxembourg. "The most important thing, the thing I like about Canada, is the openness of industry to innovation." He says the rapid pace of these innovations make AllFactory so important: "It focuses on both the technological development, as well as the human development," and enables skills to keep up with technology.
His drive to conserve the environment through innovations in manufacturing is something he attests is part of human nature. "If you talk to a kid today, they will want to save the world. So, I think that was a passion from the beginning, even before I was an engineer."
One day, perhaps Dr. Ahmad's drive for maximum efficiency and environmental conservation will mean the produce at our grocery store will be a product of aquaponics—ripened on the vine of a flawless, automated ecosystem.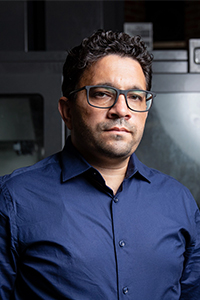 Further resources
Find out how Dr. Ahmad is refining the recycling process
"Only nine per cent of Canadian plastic is currently recycled, and recycling processes are not very sustainable," Dr. Rafiq Ahmad, P.Eng., explains. "We want to create new, cheaper processes and a bigger impact by combining different technologies. We can do this because we are one of the labs in the world pioneering artificial intelligence and digitization."