The next evolution of The PEG
In recognition of APEGA's centennial, we are proud to announce the next iteration of The PEG magazine as a new section on APEGA.ca. Welcome to yourPEG!
The PEG has been a fixture with APEGA since our earliest days. It has taken many forms—first a newsletter, it became a newspaper, then a glossy magazine, and most recently a digital-only publication online—and it has adopted many names.
Early days
Our first newsletter, The Alberta Professional Engineer, was sent to members in 1947, an eight-page publication detailing association news and topics of interest to professional engineers across Alberta. At that time, APEA (the Association of Profession Engineers of Alberta) had fewer than 500 members.
In 1969, APEA became APEGGA (the Association of Professional Engineers, Geologists, and Geophysicists of Alberta) to represent the official reclassification of professional geoscientists as separate from the engineering titles. The newsletter was renamed The Mini PEGG and, with new information and stories to relate, it became a full-fledged member newspaper. Its name was eventually shortened to The PEGG.
Dropping a G
In 2010, after the professional geoscientist designation was approved, combining the geologist and geophysicist designations into one, The PEG magazine was born (and APEGGA was rebranded as APEGA shortly thereafter). The first glossy issue was published in February 2010. Its circulation peaked at more than 75,000 copies, reaching members and permit holders across Alberta.
In 2017, as book publishing transitioned to a more digital world, The PEG ceased print production and became a totally digital magazine, but still with a layout reminiscent of a print publication.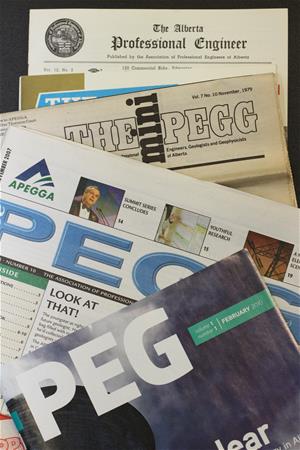 Welcome to yourPEG
We are happy to announce the next iteration of The PEG as a new section on APEGA.ca: yourPEG. During this transition period, we will be making big changes as we strive to deliver more timely stories about the engineering and geoscience industries in Alberta and around the world in an easy-to-share format.
We will continue to tell stories about our members and the industry at large in topics that readers of The PEG will be familiar with:
Regulatory News: updates on APEGA's work on behalf of the public and our registrants, information about our yearly Council Election, and changes to our practice standards and bulletins
Movers & Shakers: stories about APEGA members and permit holders who have greatly contributed to society and their profession
The Discipline File: a summary of recent discipline decisions and orders for members and permit holders in service of protecting the public welfare
Member Benefits: information about APEGA's services and benefits that support registrants and their practices
In addition, we are excited to offer more profiles of outstanding APEGA members, such as mentors and volunteers, and to tell more stories directly from our members. Here are a few of our most recent profiles:
We're happy to have you join us through yourPEG as we tell the stories that are important to our members and permit holders through our next century of self-regulation.
Have a story? Know an outstanding colleague?
Let us know! Send details or information to [email protected] and we'll be in touch.