The PEG Magazine
The PEG is the official magazine of APEGA, published online three times a year for members and other stakeholders. A monthly electronic newsletter called the ePEG complements The PEG.
The magazine contains features and news about:
APEGA's regulatory work on behalf of the public and members
APEGA's services and benefits that support members and their practices
APEGA's progress in meeting strategic goals set by APEGA Council
APEGA's members and their volunteer and professional successes
Other matters and issues of interest to professional engineers and professional geoscientists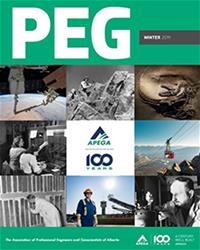 The PEG magazine is now available in FlippingBook.