The Power of a Name
Adesola, his high school math teacher called him.
It was his middle name, and the one his family and teachers back home used—his preferred name. The one he didn't realize he would leave behind in West Africa, along with the coast and the first 10 years of his life, when he came to Canada. All the other teachers in Canada called him Habib, his legal name.
"There are some teachers who care about more than your understanding of what they're trying to teach you—making sure you're comfortable in a classroom so you're able to actually learn better. Because of that experience, I worked much harder in her math class to do well. From then on, I've had an interest in math and science," explains Habib Adesola Jinadu, E.I.T.
This interest led Jinadu to the University of Calgary, where he earned his degree as an electrical engineer. He now works at Simply Embedded, doing embedded software programming for commercial industries.
His mother, one of his greatest influences and the catalyst for his move to Calgary from Lagos, Nigeria, always told him, "Make sure you connect with others, because you can't do things alone." Jinadu has taken this to heart. "It's a personal goal of mine to try and network and meet different engineers. Attending APEGA's Emerging Professionals Summit was one way I met this goal."
Attending APEGA's Emerging Professionals Summit
APEGA's Emerging Professionals Summit is an engaging day of interactive learning, informative discussions, and networking opportunities for members-in-training and post-secondary students to continue advancing their engineering and geoscience skills and knowledge.
Jinadu attended a session he found valuable, called Where Do I Sit? Fitting In, and Excelling, in an Inter-Generational Workplace. "I learned one of the most important things when it comes to working with someone that's much older or much younger than you is to show you're respectful. That was a huge takeaway for me—to be the first person to show respect to break the ice."
Mentorship and advice
He especially enjoyed connecting with fellow E.I.T.s and seasoned engineers, hearing about their goals and how they have changed throughout their careers. As a mentee with APEGA's Mentoring Program, Jinadu has similar conversations with his mentor once a month. "Being a mentee has been a very good experience, especially learning about how my mentor's goals have changed from when he got into the industry. It's very inspiring. There are a lot of things I don't know about the industry, or about things as simple as workplace expectations." He saw a mentor as someone who could help him with career-related questions, like how to manage workplace stress, excel in teamwork, and navigate new situations. "I see my mentor as someone I can go to for advice."
While Jinadu has not yet defined his goals for the near future, he does have one thing he'd like to accomplish. "I'd love to have that sense of adventure my mom had when she moved to Canada. It wasn't easy, but it definitely opened the door to a lot of opportunities for us."
He plans to attend the Emerging Professionals Summit in 2022, and one day, to help provide consistent and reliable energy to those without it in Nigeria.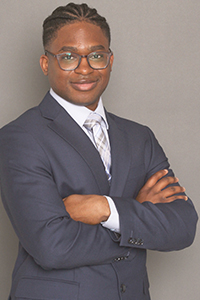 Habib Adesola Jinadu, E.I.T.