The Ingredients of an Engineer
When Nima Macci was young, her mother, a chemistry teacher, evoked the scientific method when baking banana bread. Together, she and Nima would explore the problem they wanted to solve—Nima was hungry. They would define the experiment's scope: Did they want to add walnuts for mouth feel? They hypothesized about how the ingredients would combine using words like coalesce, fibres, and polymers.
Then they'd follow the procedure (recipe).
Nima clutched bowls and utensils—apparati—in her deft (she's always been the capable type), four-year-old fingers as she and her mother defined controlled and manipulated variables. Once the bread went into the oven, they would observe. Did they reach optimal results? Taking their first steamy bite, they formed a conclusion—are we enjoying it? Anything to modify for next time?
A Procedure in Building Values
Nima's passion for science grew. Her parents encouraged her to be inquisitive. "I was always aware the world was a much bigger place than what I saw in front of me," she explains. Her parents stressed education, community service, compassion, and kindness as defining values.
This combination led to Nima's passion for creating helpful solutions. She became "queen of the science fair" through primary school, creating seismographs, studying nanotechnology, and learning about oil and gas. She created projects that solved real-world problems. This passion led her to earn her bachelor of science degree in chemical engineering from the University of Calgary's Schulich School of Engineering. She graduated earlier this year.
The Future—A Manipulated Variable
Already a tenuous time of unknowns for every new graduate—entering the workforce while living through a global pandemic brought a new element of ambiguity. Nima's internship moved from in-person to virtual in 2020.
"There was a great deal of uncertainty in terms of what was going to come next, what careers and opportunities would be available, especially for new graduates like me." Nima was looking for answers and direction—which she found at APEGA's Emerging Professionals Summit in 2020.
"The summit reignited the passion I had for the field and made me optimistic. After attending, I better understood what it means to embody the engineering spirit," emphasizes Nima.
The session Becoming Job Smart helped her rethink the job-search process by honing in on the crafts of personal storytelling and career strategizing. In Savvy Networking, she gleaned pointers on starting conversations and finding a mentor. She appreciated learning about APEGA's application process and the responsibilities of professional members. The online event platform made it easy to interact with and ask questions to experienced professionals.
Observing the Growth of an Engineer
Nima left the summit feeling excited and hopeful for the future.
Now she's using that hope, and her project management skills, to create a better future for Canadians as the program coordinator for the National Council of Canadian Muslims, combating Islamophobia in Canada. This year, Nima is selected as one of six Ivan Finlay Leadership Award recipients. The award is given to students exemplifying community engagement, ingenuity, and leadership by APEGA's past-presidents.
If raising an engineer who wanted to make the world a better place was a scientific experiment, when evaluating the conclusion, Nima Macci may just be the optimal result.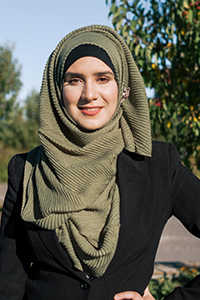 Apply for an Ivan Finlay Leadership Award Today