Pupdate: Peggy Comes Home
In February 2020, APEGA announced a long-term partnership with Canada Task Force 2 (CANTF2). This organization, based in Alberta, is an all-hazards disaster response team able to respond to an array of large-scale emergencies and disasters, providing support to communities across the province. This organization's mandate aligns with APEGA's mandate of protecting Albertans.
Our sponsorship supports the purchase and training of a search-and-rescue black Labrador retriever named Peggy. While saving lives in disaster zones all over Canada and the world, Peggy will be a living beacon of APEGA's mission to protect the public's safety.
We'll be providing pupdates on Peggy periodically throughout her canine career.
Squatting, planking, and reversing, oh my!
In November, Peggy's handler, Clayton Terletski, travelled to Pennsylvania to meet and practise with her for the first time before bringing her home to Calgary to continue their drills.
The biggest challenge facing the duo right now is the ongoing pandemic, which has forced them into isolation and limited training opportunities. To fully practise her search skills, Peggy needs access to obstacle courses so she can climb ladders, walk across planks, and navigate under, over, and around various obstructions.
"She wants to work," Terletski explains. "She's an awesome dog, very affectionate, friendly, loves people—but she also wants to work. She's high energy, she's high drive, so keeping Peggy busy can be a challenge."
In addition to daily walks and obedience training, Peggy's exercises include a 15-minute routine to maintain some of her base search-and-rescue skills, like squatting, planking, sitting like a chipmunk, and moving backwards onto higher obstacles. Dogs aren't naturally aware of their hindquarters, so moving strategically in reverse can be a challenge—but Peggy's always up for a challenge.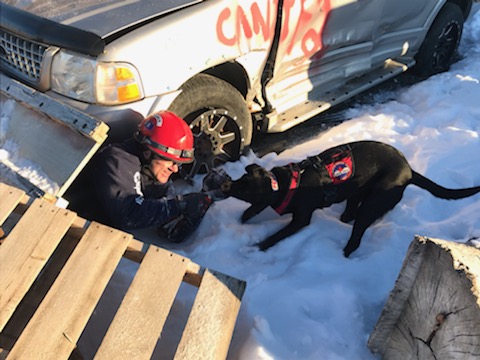 The working life of a snuggle bug
Even though training opportunities are limited right now, Terletski and Peggy are still getting some time in with CANTF2. And while Terletski once hid and waited for the dogs to find him, he now works alongside them.
"It's definitely a challenge, and you don't get to play with the dogs as much," he laughs. "The most important thing is working as a team—knowing her, understanding her body language, when I think she's found a scent she's following or when she's just checking things out."
Terletski notes that although Peggy loves a good cuddle, when it's time to work, her whole body changes—she tenses up and is on high alert. She still surprises him with how fast she can move and clear areas. She occasionally gets stumped when she's searching for someone in a training field—she'll pause and look at Terletski for guidance—but she often solves the puzzles she encounters on her own.
Peggy will continue her intense training throughout her career as a search-and-rescue dog. But each day, as soon as she's off the clock, she takes on another role—a wildly affectionate, playful, and loving black Lab.
Get social with Peggy!
Follow Peggy on her training adventures by following her on Instagram!