Paws for APEGA Centennial News: The Canada Task Force 2 Partnership
In February, APEGA announced a partnership with Canada Task Force 2 (CANTF2) as part of our centennial celebrations. We kicked off the multi-year partnership by introducing three canine members of the team (and their handlers), and enjoyed a mock search performed by one of the dogs at TELUS Spark in Calgary. However, due to the global health emergency, we haven't been able to formally introduce the face of the partnership until now.
A legacy partnership
APEGA is reaching out to create legacy partnerships—long-term sponsorships that benefit and complement both parties. APEGA's sponsorship program supports projects and organizations that match APEGA's mandate of protecting Albertans, and CANTF2 fits that bill. Like APEGA's members, CANTF2 is dedicated to keeping people safe.
CANTF2 comprises more than 150 volunteers—including rescue specialists, doctors, paramedics, structural engineers, communications specialists, canine and technical searchers, logistics specialists, and command staff—who train and prepare to respond to rescue and disaster situations as a team. Through our partnership with CANTF2, APEGA is sponsoring a specialized search and rescue canine. While saving lives in disaster zones all over Canada and the world, the dog will be a living beacon of APEGA's mission to protect the public's safety.
We're happy to introduce the newest members of CANTF2's Canine and Technical Search Team—Peggy, the Black Labrador, and her handler, Clayton Terletski. Once all paws and reckless enthusiasm, Peggy is shedding her puppy playfulness as she earns her rightful place on the highly trained team.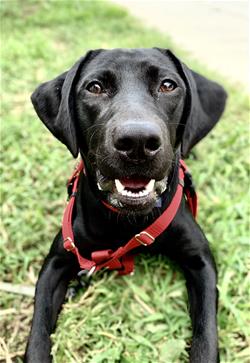 Meet Peggy
In early November, Terletski will be flying to meet Peggy and learn the techniques being used to train her. She has been practising in a specialized facility in Pennsylvania since May, and Tertletski will work with her to build and grow the special bond between working dog and handler. After a week together, the duo will fly back to Calgary, where they'll continue the drills.
In fact, Peggy's training will never end—because search dogs are so motivated and must be continually challenged, they must train continuously throughout their entire career so they retain and improve the skills they've learned.
Once back in Canada, Peggy will join CANTF2 while she works towards receiving her level 1 certification—an accomplishment that will render her fully deployable and able to search for live victims. After that, she'll strive for level 2 certification, which will show she has the advanced-search skills all CANTF2 search dogs must have.
Watch Peggy in action!
Meet the handler
When the opportunity to become a handler for CANTF2's canine search team arose, Clayton Terletski didn't hesitate. He's no stranger to the hard work that comes with the canine unit—he's been working with its dogs for years. During training and in demonstrations, Terletski will hide and wait for the dogs to find him.
"It's always been a lot of fun. I love to play with the dogs once they find me," he states. "I'm familiar with what it takes to train a high-drive dog, and I'm really looking forward to Peggie. It's going to be nice to work closely with her and have that companionship, but I'm really looking forward to challenging us both."
As director of emergency management for Foothills County and operational sergeant for the peace officers in Foothills County, Terletski is well-versed in crisis management. And he's no stranger to CANTF2—he's involved with its technical search team, its canine team, and its heavy urban search and rescue command team.
"I've been with CANTF2 for a little over four years. I'm involved in emergency management for the county I work for, so once I had learned about [CANTF2], it made perfect sense for me to volunteer with them," says Terletski. "I really enjoy the teamwork, the camaraderie. Not every volunteer is a first responder. We come from all walks of life, but we all fit together with the same attitude and motivation. We want to improve ourselves and ultimately help people out."