Pupdate: From Ruff Around the Edges to a Pro Searching Pup
A sleek black pup races by cars perched helter-skelter atop mounds of cement and rubble on a snow-frosted morning in Brandon, Man. With ease, she leaps up jagged grey juts, pauses at a crevice and sticks her head in, her back end waving with nervous excitement. She barks and her head rises—victorious, she runs back to her handler to collect an excited, "good girl!"
She has searched for and located a person trapped in the debris in under a minute, which spells a test well-passed for the black Labrador. Peggy has earned her level-two certification as a search canine—the standard task force canines must meet to be deployed to emergencies and the highest level of achievement in the Canadian certification system. She can now be sent out to search and rescue those in need with Canada Task Force 2, an all-hazards disaster response team that responds to emergencies such as building collapses, earthquakes, and tornadoes in Alberta—a team APEGA is proud to sponsor. Peggy is a living beacon of APEGA's mission to protect the public's safety.
A lineage of rescuers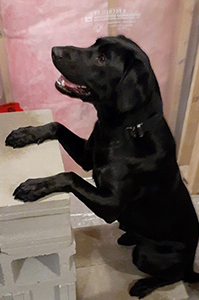 Peggy is a search and rescue dog, bred from two working dogs at the
University of Pennsylvania Working Dog Center
and born into a litter of eight pups. The pups have all grown into working dogs—so it's in her very genes to help. Her handler, Clayton Terletski, is a peace officer and the director of emergency management for Foothills County. He is also a canine search specialist and member of the incident management team at Canada Task Force 2. The group has 150 volunteer members across the province, including structural engineers.
Terletski picked Peggy up from Pennsylvania in November 2021, and they have worked together daily since, practising obedience, agility, and search and rescue. She even has a workout regime, which includes performing planks and squats on cinder blocks to strengthen her core, enabling her to climb ladders in rescues.
Raring to get to work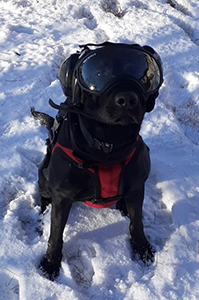 Every day, we do something a little bit different," Terletski says. "We may hide one or two people, spread them out. Then we build an actual scenario where I release her. We practise inside buildings, we'll do a rubble pile, hide people in cars, that sort of thing. Picking up the scent is always harder—wind weather is a factor. It's nice to be outside in different conditions just to make sure she's right on the ball." Peggy had some strong wind to contend with during her certification and she was unfazed.
He explains environmental familiarization is part of her training—getting her used to snowy and windy conditions and noises, such as the smashing of jackhammers. She also learns to work alongside helicopters and sit in them comfortably as they noisily navigate the air. Peggy's earmuffs help with the sounds—they are a part of the personal protective equipment she wears when she's on the job. She also dons a Kevlar vest, goggles called Rex Specs, and boots.
Peggy will work as a search and rescue dog for a dedicated decade and then will retire into a life as Terletski's beloved house pup—"A high-energy pet," he smiles.
Terletski calls to Peggy and tells her to heel, and she takes a sideways leap to sit near his leg. He chuckles. Peggy's not thinking about retirement—she's just getting started, and she's excited to get to work.
Get social with Peggy!
See Peggy's training adventures by following her on Instagram!