Preparing for Takeoff: A Conversation with a Canadian Astronaut
As part of APEGA's centennial celebrations, our Edmonton branch and The Personal Insurance Company invite you join us over the lunch hour on October 6 as we chat with Dr. Robert Thirsk, a highly decorated physician and astronaut.
A Canadian icon, Dr. Thirsk holds the national record for the most time spent in space—a whopping 204 days and 18 hours. In anticipation of his webinar, we sat down with him to talk hockey, Star Trek, and the colonization of Mars.
1) After seeing a photo of you wearing your hockey jersey aboard the space shuttle, we need to ask the most Canadian question first. Who's your hockey team?
I know I'm Canadian, but the Boston Bruins is my team and has been since I was a teenager. That's when Bobby Orr arrived on the scene. We have some great hockey players today, but Bobby Orr was something special. When he was on the ice, he controlled the game.

The very first live NHL hockey game I ever attended was at the Boston Gardens when I was a grad student at the Massachusetts Institute of Technology, and that was it. The Bruins have had ups and downs since then, but I try to stay loyal to them.
2) Did you have the chance to watch a game during your time in the International Space Station?
Yes, the last time I flew. During my time on the ISS in 2009, I could watch the Stanley Cup finals.
That was the year that the Pittsburgh Penguins won the Cup. Mission Control recorded the broadcasts for me and then transmitted the games up to the Station several hours or a day later. I had to tell my friends, "Don't tell me the scores until I've seen the games!"
3) What has been the most exciting part of your career so far?
The best part of being an astronaut is flying in space, and I have had the opportunity and privilege to fly twice. Both of those missions are career highlights for me.
It takes a lot of work to prepare for a mission—space flight is still difficult, still risky, still complicated. Astronauts spend years on the ground preparing for flight. Once we're in space we often have only one opportunity to perform a task correctly due to the mission timeline or the constraints of the orbit we're flying in. It was a satisfying feeling to return to Earth from both of those flights knowing that my crew and I had performed at a high level and accomplished all that we had hoped to achieve.
The second-best thing about being an astronaut is the opportunity to encourage students, particularly those students interested in STEM educational pursuits. On several occasions, I have had the opportunity to provide feedback and encouragement to these future leaders. That has been very gratifying.
4) You are known for a lot of firsts—first newspaper articles written and published while the author was in space, first Canadian to fly in a Soyuz spacecraft, first university degree given in space, first meeting between two Canadians in space. What would be the ultimate "first" that you'd like to be known for?
Well, that's an original question! I had never pursued any activity in order to be a first—I take on a role or responsibility because it has the potential to make our world a better place. I will always want to see frontiers advanced, and I will hope that those who follow me will advance them. That's what's most important.
If you twist my arm, then I suppose I would say that being the first Canadian to complete a long-duration flight in space has been fulfilling. Those missions are difficult and long—typically six months long. They take a physical and psychological toll. It's hard for astronauts to be away from our families, friends and the comforts of life. A spacecraft is not the Hotel Macdonald! So, having flown the first long-duration flight for Canada is gratifying.
5) Star Wars or Star Trek?
Star Trek!
Both are great series, but I prefer Star Trek because of the humanism that is depicted in the storylines. If you think of the relationship between Kirk and Spock—you couldn't find people who are so dissimilar. And yet, they complemented each other and were the best of friends. It reminds me of my actual space flight experiences. Aboard the International Space Station, I flew with people from four other nations, other cultures—Russia, United States, Europe, and Japan. My crewmates were different from me—in our ideologies, in our approaches to problem solving. But we complemented each other and became the best of friends, the best of colleagues. We succeeded by working together – a model for other international collaborations.
Star Trek showcases a lot of that collaboration, that humanity, and that empathy.
6) What wildly inaccurate sci-fi movie is your guilty pleasure?
Well, one wildly inaccurate one that brings me no pleasure is Armageddon—the world would be a better place if that movie had never been produced!
But I enjoy Mars Attacks. It's so weird that it's funny.

7) What's the coolest thing about being in space?
The view of Earth from space.
Before my first flight, I read a lot of books, talked to other astronauts, and saw movies about space. But until you get up there yourself and gaze out the window with your own eyes at our home planet from above, you then understand that no words can convey that sense of awe and beauty. I still get chills down my spine when I think about my first view of Earth from space. My first view was of the Atlantic Ocean, with the sun glinting off of its surface, and beyond the ocean and the distant horizon was nothing but inky, black space.
That was pretty special. Subsequently, whenever I had a spare moment, I'd be at a window just gazing down to try and drink it all in. The view is not just beautiful—it's life changing. It altered my perceptions about humanity, civilization, the environment. It was truly life changing for me.
8) Do you remember the moment you knew you wanted to be an astronaut?
I was fortunate to grow up in the 1960s, and that was a marvelous, fast-paced decade to be a child. In the beginning of the '60s, no human had ever ventured into space, but by the end of the decade, four people had walked on the moon. So science and technology were moving incredibly fast.
I, like millions of others around the world, got the bug that it would be great to also venture as an astronaut into this wonderous new environment called space. Teachers took advantage of the emergence of the space program to introduce the careers of scientists, engineers and astronauts to their students and have us think about living and working in space—the notion of weightlessness and its implications on eating, drinking, and bodily functions in space. That was mesmerizing for us.
I remember a teacher in Grade 3 who did a particularly good job of that, so I suppose the actual bug to become an astronaut started when I was in elementary school.
9) What do you think about the efforts to colonize Mars?
It's part of human DNA to want to explore, to be curious, to pursue discoveries. For an astronaut, the ultimate destination is Mars.
Mars, like Earth, lays within the Goldilocks Zone of our solar system—a zone where planetary temperatures are not too hot, not too cold to support life—and humans could potentially live on Mars. Yes, the red planet has a harsh environment, and we'd need to create an altered mini- environment to live there. But there's a number of reasons we want to go to Mars. We want to learn whether life ever existed on Mars—can you imagine the newspaper headlines if the first astronauts to venture to Mars discover a fossil? Now that would be the news event of the century.
But voyaging to and living on Mars will be very challenging. There are a number of technological reasons we can't go right now—for instance, we need a lot of engineering help to develop systems capable of landing heavy payloads on Mars. We need geoscience help to extract resources from the Martian soil and the thin atmosphere so we can supply the astronauts with oxygen and water, and supply their spaceship with propellant for the return flight home. We also need to provide a means of powering the transit spacecraft with continuous thrust so the voyage there and back will be quicker and so that the physiological effects of weightlessness on the astronauts' bodies won't be as damaging.
So, in summary, engineering talent will be required to get astronauts there, and geological abilities will be required when they arrive to utilize the natural resources and to study the planetary history and to draw parallels to the history of Earth.
There are so many challenges, but that's what makes a Mars mission so attractive. It gives humanity an audacious goal that all nations working together can pursue as a united civilization. Doing it collaboratively will bring nations together.
10) What is the most important part of your job?
Increasing the science and innovation culture in Canada.
Canada has accomplished a lot of really great science, engineering and medicine. But in the past, our economy has primarily been based on the exploitation of our natural resources. I wish Canada had a more diversified economy. The space program, for instance, has many needs and could benefit from Canadian intellectual capital and spirit of exploration. By expanding our economy into other intellectual pursuits such as space exploration and utilization, we encourage other sectors of the innovation economy.
I'm an Albertan, and it's been difficult for me to witness the plummet in the global price of oil. Alberta cannot remain a one-industry economy. There needs to be greater diversity in our industrial palette. We certainly have the talent to think expansively. So I hope I have encouraged young Canadians to consider a broad spectrum of careers in STEM, to reach for the stars and to follow their dreams.
Read more articles like this
If you enjoyed this article, be sure to check out some of these other stories!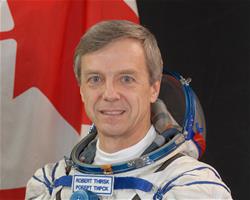 Dr. Robert Thirsk
Canadian physician and astronaut