Meet the President: Brian Pearse in His Own Words
Previously, we brought you part one of our two-part Meet the President series designed to introduce the man leading APEGA as we inch closer to the end of the pandemic. In part two, we sit down with Brian Pearse, P.Eng.—virtually, of course—to get to know the man behind the presidency in his own words.
The first part of this series was published in May 2021.
How do you define yourself?
I'm a professional engineer and I was a business owner, entrepreneur, and corporate leader. As a corporate leader, I often heard people say, "It's just business—nothing personal. No offence," and I've never liked that. I believe you are who you are, and you conduct yourself in business as you do in life, and I've always tried to encapsulate that. As a leader, that's how I'd like to be defined—never needing to use that phrase. Evolving beyond that phrase.
How have the positions you've held throughout your career shaped you? How did they prepare you for your role as APEGA president?
Early on, working for a smaller company, I was able to design a project and prepare and manage the contract. I loved the ability to see the project through from start to finish. I also realized I really enjoyed the dynamics of working with different people. I feel like I received organic mentoring in doing so, which really opened the door to greater career possibilities.
In the later stages of my career, I continued working with people, making the effort to understand what drives them and figuring out what they need. Nobody can do everything themselves—individually, we're not the smartest person or the most technical, and we don't know it all. Harnessing the abilities of a team achieves better, quicker, and more efficient results.
All in all, I've had a lot of exposure to a really diverse mix of things. I have always felt the need to accept any challenge, and I highly recommend that to anyone. It allowed me to be involved in situations that gave me a lot of terrific learning opportunities. Fast forward to today—as president, I'm looking forward to working with a lot of great people, including our 72,000 members.
What career advice would you give your younger self?
If I looked back, I would say to keep following your head, heart, and gut. After accepting a previous position, I remember being told that I would be trained. I had been in that area for only a few weeks, and I asked the manager when the training would take place. He simply pointed at a two-inch-thick spec book and told me to start there. That's when I realized I was equally responsible for my training as anyone else was.
In line with that, always assess yourself. Understand what's needed and what you're bringing to the table. Say yes to opportunities. Take risks. Seek new challenges because they will stretch you and teach you.
How does it feel taking on the role of APEGA president during a pandemic?
I accept the challenge. I feel confident in being in a state of readiness to take on whatever challenges this year may or may not bring. If you were to ask me in March 2020 how long this was going to last, I would have said a couple of months. And here we are, more than 400 days in. We have learned to embrace what we need to, and we're really connecting with people as much as we can. Now, it's about continuing to work hard and making sure we're bringing forward the humanity over and above our more routine activities.
Many of our members and permit holders are struggling with the difficulties brought on by the pandemic. What can you tell them?
Continue to be resilient. In life and career, there are always obstacles. Granted, this pandemic is a very big one. But it's a matter of identifying which ones are speed bumps, which ones are hurdles, and which ones are brick walls. If we can identify that, we can start thinking about how to make the brick wall a hurdle, and the hurdle a speed bump. We can figure out how to roll over the speed bumps or find a way around them.
Ask the President
Do you have a question for the president? Email it to [email protected].
Questions will be randomly drawn for the president's response on a regular basis. Selected questions will be answered in upcoming ePEGs with the submitter's first name, last initial, and designation. We will not respond to anonymous or unprofessional submissions. Due to workloads, not all questions can be answered. However, we may use them to determine future ePEG articles for topics of great interest to members.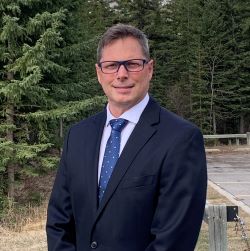 Brian Pearse, P.Eng.
APEGA Council President 2021-22