If: Ball, Then: Catch
Book aims to spark children's curiosity for robotics and coding
All Dot wants for her eighth birthday is a real, live puppy to cuddle. Instead, she gets a robot dog named Sparky.
"If you can train Sparky," Dot's parents tell her, "then you can get a real dog."
Dot and Sparky's adventures are chronicled in the self-published picture book If: Ball, Then: Catch, written by mechanical engineer and University of Alberta Faculty of Engineering alumna Katherine Schoepp, P.Eng.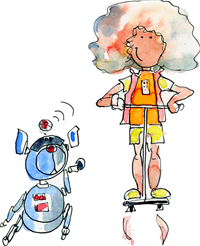 The book, for five- to eight-year-olds, teaches kids valuable lessons about friendship and perseverance while introducing them to the basics of computer programming and robotics in a way that's fun, a bit silly, and easy to understand.
"There are a lot of scenarios in the book where something goes terribly wrong, and Dot has to think of a way to get through that," explains Schoepp.
Does she succeed?
Not always.
But she never stops looking for solutions.
If: role models, then: engineer
Growing up in Edmonton, Schoepp's favourite subjects in school were math, physics, and biology. Her parents are both scientists, while her uncle—John R. Evans, the artist behind the book's whimsical illustrations—is a retired mechanical engineer and former APEGA member. He graduated from the University of Alberta Faculty of Engineering in 1979, and more recently, in 2018, completed a minor in physics at the University of Ottawa.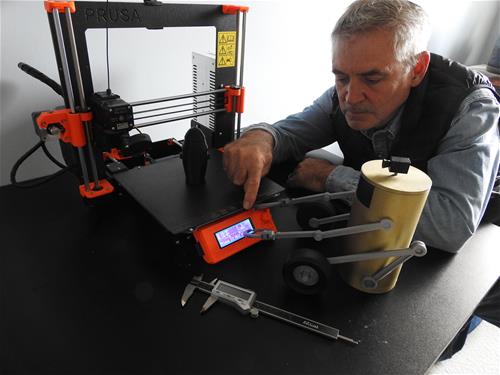 With role models like that, it's perhaps no surprise that Schoepp decided to study mechanical engineering, with a biomedical option. She earned her bachelor's degree in 2013, followed by a master's in 2016. Working at the U of A's Bionic Limbs for Impoved Natural Control lab, she delved into robotics and programming, helping improve the design and functionality of prosthetic arms.
She also spent several years volunteering with science outreach programs like DiscoverE, Let's Talk Science, and Women in Scholarship, Engineering, Science, and Technology, sharing her enthusiasm for science, technology, engineering, and math with future generations of engineers and geoscientists.
After moving to Ottawa two years ago to pursue new career opportunities, Schoepp began collaborating with Evans on the book. "For the first few months, while I was looking for a job, I thought it would be fun to write a kid's book," she says.
The idea for If: Ball, Then: Catch was born.
Never stop exploring
Schoepp and Evans hope to inspire all children—especially young girls—to be fearless and adaptable, and to never stop exploring the world around them.
Just like Dot.
"It would be nice if all kids could see themselves reflected in her, to some extent," says Schoepp.
Lockdown Learning
If: Ball, Then: Catch was officially launched in May. At the time, most schools across Canada were closed due to the COVID-19 pandemic, so Schoepp created a blog to share free, hands-on science activities that kids can do at home with easy-to-source materials.
"The blog builds off the basic concepts introduced in the book," she says.
New activities continue to be added regularly.
Among them: kids can learn how to build an LED Sparky, create 3D models using clay, and make a binary paper chain.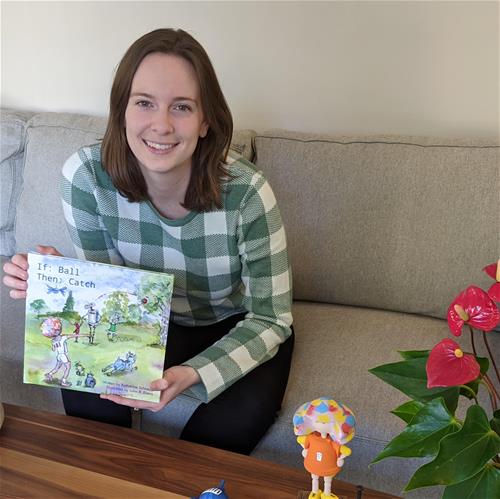 Katherine Schoepp, P.Eng.
Where to buy
If Ball, Then: Catch is available in hardcover, softcover, and PDF formats. To order, visit ifballthencatch.ca for full details.