From Adversity to Innovation
"Dreams are those things which never let you sleep, right?" Dr. Rafiq Ahmad, P.Eng., chuckles. His passion for problem solving leads him to do what most only think about—helping to fix or improve what's gone awry in the world.
His latest project in a list of many—the ProBEEs Digital Education Society—is one of his solutions to a sum of natural disasters and personal experiences he's been through. He wants to solve problems like these before they impact others. The society focuses on doing this through global knowledge and technology sharing to support equity in education.
His ambitions gear toward solutions, not accolades, although he rightfully earns the latter: he's an EDify Magazine Top 40 Under 40 recipient for 2022. EDify's Top 40 Under 40 list, published annually, comprises accomplished community members in Edmonton under the age of 40 who make the city a better place to live.
Aiming for a fantastic future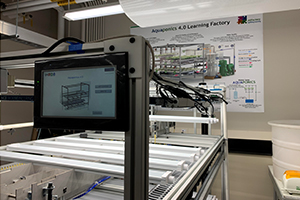 Dr. Ahmad's contributions to the Edmonton-area community and beyond are extensive and future-focused.
Envisioning a remedy to food scarcity, he developed the Aquaponics 4.0 Learning Factory (ALLFactory) at the mechanical engineering department of the University of Alberta in 2016. It's the first learning factory in the world focusing on engineering systems for vertical farming. Using transdisciplinary research, training, and a learning environment to investigate intelligent, automated systems for growing edible plants with aquaponics (a sustainable, pesticide-free growing method combining fish farming and soilless plant production), it's a true factory-in-a-lab concept. Per plant produced, this engineered approach to agricultural processes can result in a 70 per cent reduction in water and fertilizer consumption. "It has a huge impact on the future," he explains, citing it as a potential solution leading to increased food availability worldwide, meaning less food transport and more equity across nations.
That's not the only problem he's worked on solving lately. Disillusioned by all the plastics in Alberta, and by recycling efforts that often cost more than producing new materials, Dr. Ahmad came up with a vision for novel, intelligent recycling processes that turn plastics into entirely new, useful products in the Smart & Sustainable Manufacturing Systems Laboratory (SMART LAB, formerly known as LIMDA), which he started in 2016 at the University of Alberta.
In the same lab, he used 3D printing, machining, and injection moulding technology to develop personal protective respirators with ergonomic full-face masks to help prevent COVID-19 transmission after he lost his brother to the virus.
Catastrophe to cause
In 2010, while Dr. Ahmad visited his childhood home in Swat Valley in Pakistan during a break from studying in France, the city flooded with water. "We lost around 50 bridges, so we were disconnected from the rest of the country, completely isolated. There was a food shortage and medical issues—many issues, you can imagine. We were like that for 20 days." He explains eventually there was a steel bridge built reconnecting the city to the rest of the country, but traffic was impossible to navigate. On the 21st day, he climbed aboard a raft-like inflatable boat, the spray of floodwater hitting him as he made his way to a neighbouring city's airport to return to Europe.
"When it comes to things like that, it could be something that can impact anyone. If it had impacted me at one point, it could impact someone else, right?" When another flood devastated the city again years later, he noticed the disaster response hadn't improved. "Nobody solved that problem."
In Mexico in 2022, when an earthquake heaved the rocks under his feet to the tune of 7.6 on the Richter scale, he stood while his very foundation shook and considered the country's disaster mitigation technology and processes warning him of the impending natural disaster. "I was outside waiting for it 60 seconds before it happened. I thought, how do we bring a similar level of technology to other countries?"
Enter the ProBEEs Digital Education Society
Dr. Ahmad sat in constant contemplation of how he could affect these issues personally, and an idea was born of his empathy. In 2021 he launched the ProBEEs Digital Education Society, a registered Canadian not-for-profit, to begin sharing solutions worldwide. ProBEEs stands for professionals bridging engineering, education, science, and society. By providing online training and workshops and supporting students with new skills development in engineering and science and networking and mentorship opportunities, the society hopes to promote, enhance, and disseminate advancements in science and technology to contribute to the technical and technological needs of developing countries.
His hope? The society will plant a seed of equity, growing to improve quality of life across borders. "I feel like the world has solutions we need to adopt. Global warming is not a regional problem, it's the whole world's problem. So how do we mitigate it? We need a solution, from education to technology, which can go across the boundaries."
He explains it's not just about sharing available technology—although that does solve a portion of the conundrum. It's also about providing the necessary education to implement and use the technology successfully. "How do we bring whatever knowledge we have here, for example, the way I'm educating engineers in Canada, people in other countries, like Pakistan? They should have the same kind of equity or opportunity to be educated in the same way." He wants to create a network of professionals willing to give back to their communities—in terms of their time and expertise, scholarships, networking, workshops, training, and mentorship.
The society's first virtual symposium featured experts speaking about how Canadian technologies can help countries mitigating floods, such as Pakistan. ProBEEs also focuses on building networks and supports for women in STEM and creating technology to promote equity. For example, his team has built a tool to teach those with impaired vision or blindness how to program by interacting with an artificially intelligent robot 3D printed from recycled plastics in SMART LAB.
A productive insomnia
"My goal is to find a problem, think about it, and find experts to bring solutions to society quickly through their professional network." He hearkens back to the process he used to create the mask to protect against COVID-19. "We found a problem and then went on to find the right team and the right solution. This one was more on the technological level, but we are using the same kind of approach for education with ProBEEs."
He says his goal is to make an impact on the world-wide community—an impact that takes effect as soon as possible. He chooses cause-led projects, because oftentimes, he finds people criticize when they see problems, instead of thinking about how they can contribute to fixing the issue. "Think about the flood mitigation—I cannot go there and solve the problem physically, but what I can do in my capacity is to create an educational platform where experts can give their opinions and provide some solutions."
Dr. Ahmad says he can sleep well when he's contributed to the creation of a better world, but we hope not too well. After all, it's his dreams of global solutions to improve society for everyone that keep him up at night.