A Software Engineer and a Nurse Strike the Match of Innovation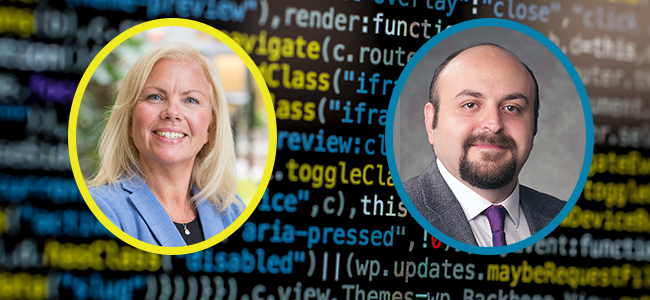 Dr. Mohammad Moshirpour, P.Eng., explains software engineers resemble carpenters: they can build a library, but first they need to know what it's supposed to look like.
The software engineering professor at the University of Calgary's Schulich School of Engineering relates this to the many award-winning projects he's built with his newest partner in development, Dr. Linda Duffett-Leger, a registered nurse and associate professor at the U of C's Faculty of Nursing. He is the carpenter, and she is the guide.
Dr. Duffett-Leger and Dr. Moshirpour have found common ground in a few areas—they're innovative and they swiftly put ideas into action. Perhaps most serendipitously, they had mothers who worked as nurses and fathers who worked as engineers, modelling the unique way these two groups of specialists collaborate.
"We understood the complimentary fit between engineering and nursing, and this is something we believe more researchers and students would benefit from understanding. As we shared our stories, it became clear we share a keen interest in developing digital health solutions to address some of the inequities in traditional health and education systems," Dr. Duffett-Leger explains. To solve these complex issues, she says, the disciplines must work together.
Commonalities fire up collaboration
Together, Dr. Moshirpour and Dr. Duffett-Leger are producing new software to benefit patients, health-care providers, and students in engineering and nursing.
The platform—Ignitingale—will enable professionals to collaborate and students to work together in interdisciplinary groups. Participants can share documents, connect, and chat with one another, and instructors can deploy group assignments and quizzes. Currently, the program teams up engineering and nursing students to imagine innovative software solutions and solve real-world problems for the health-care field. It's named after Florence Nightingale, a nurse and trailblazer in the development of science-based nursing education, and Schulich Ignite, a successful program Dr. Moshirpour developed to teach programming at high schools and to under-represented populations in the software engineering field.
A hot take: know your user
Dr. Moshirpour explains a fundamental part of developing and designing software is understanding the user's experience. "Engineers and nurses are practitioners in the business of taking some sort of science and applying it to solve problems—we are very much like-minded. If I want to build a health-care application, I need their guidance. It's important for engineers to realize the group you are building for needs to be there giving you feedback and requirements every step of the way. That's a huge part of entrepreneurial thinking, research thinking, and engineering."
He explains Ignitingale helps nursing students understand how to leverage technology to accomplish goals in health care while teaching engineering students about problems in the industry. "Once we come together, we can actually innovate," says Dr. Moshirpour. As teachers, he furthers, he and his counterpart often try to think of problems for students to solve, and this program and partnership naturally produces insightful, real-world problems to work on. "This tool in particular, and this way of teaching, really prepares students for the industry and fosters innovation and entrepreneurship."
A firehose of projects
The partnership between Dr. Duffett-Leger and Dr. Moshirpour drives the idea of an application production process into hyper speed—and they have many more projects in the works.
When the pandemic halted the delivery of two parenting support programs, the duo created virtual platforms to enable the work to continue. ATTACH provides nursing intervention to mothers exposed to toxic stressors like postpartum depression, poverty, addiction, and intimate-partner violence, preventing developmental delays in infants. VID-KIDS helps new moms navigate their caregiving roles. Dr. Duffett-Leger and Dr. Moshirpour also received funding to create a platform using wearable technologies, like smart watches, to collect data and deliver support to first responders at risk of post-traumatic stress injury disorder and their families.
Dr. Duffett-Leger explains, "The COVID-19 pandemic has highlighted the need for more accessible mental health supports, and we are uniquely positioned to rapidly develop these urgently needed virtual programs."
The pair also leverages virtual reality to help soothe those with dementia or Alzheimer's disease and aid in memory recall and retention. "Never in a million years would I have guessed virtual reality could help with memory loss, yet Linda makes that connection, and then I can back it up with technical know-how," smiles Dr. Moshirpour.
The guide and the carpenter of these digital solutions to education and health-care delivery, Dr. Duffett-Leger and Dr. Moshirpour are an unstoppable duo. The name Ignitingale represents the program in development—and it reflects their partnership.
Together, they continue to ignite innovation to care for those most vulnerable, and they're teaching the next generation of engineers and nurses to do the same.