A Quality Boardroom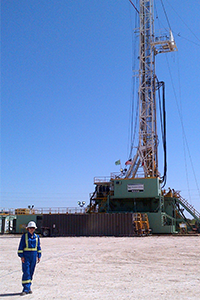 Ambiguity is a frequent and comfortable visitor in Julia McElgunn, M.Sc., P.Geo.'s office. She's spent the last 20 years poring through data to find underground oil and gas deposits, and one can never be flawlessly certain of what they'll find in the elusive caverns until they drill down—an operation that generally costs millions.
"As geologists, we have a lot of ambiguous data because we're trying to assess something that is, for example, 2 ½ kilometres down in the earth that's 150 million years old," McElgunn shares. Throughout her career, she's confidently assessed these data and made the corresponding high-stakes—and high-cost—decisions about drilling. "I've noticed my niche question is, 'What's the risk?'" she reflects, smiling.
When she's not a geoscientist on the hunt, she raises her four children, ranging in age from six to 17, while earning her master's in business administration—and runs the occasional marathon. This tenacity and determination to grow, along with her acumen for business development and strategy, make her an asset on the Calgary Minor Soccer Association Board.
Identifying strategically gifted women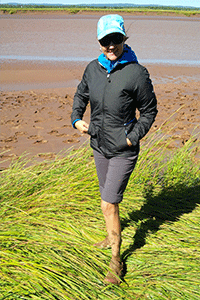 To find her board position, McElgunn worked with Board Ready Women, a not-for-profit organization founded in 2018 that connects women with boards looking for their specific skill sets and talents.
The organization provides networking opportunities and hosts events with themes such as culture in the boardroom, activists and shareholders, and good governance. They also provide skill-building sessions on topics like writing board-specific résumés and learning to effectively interview for board positions.
The organization was founded four years ago by three Albertan women—Heather Culbert, current president and director, current director Jennifer Koury, and Linda Hohol—after hearing from men in their networks who expressed that there weren't a lot of women in Alberta ready to sit on boards. They created Board Ready Women with the goal of developing a database of Albertan women with the background, education, and experience to effectively occupy available board positions.
Representation is imperative for success
Board Ready Women currently comprises around 150 members from Alberta, British Columbia, Ontario, Quebec, Nova Scotia, New Brunswick, Saskatchewan, and the United States. In 2022, the group assisted 51 companies in shortlisting women for 115 positions, putting forward a total of 394 résumés from accomplished women, including McElgunn.
"Our whole goal is helping organizations increase the number of women on boards," explains Koury. Women's representation on boards in Alberta was 13 per cent in 2019. This year, representation has risen to 21 per cent. "We certainly feel like we've contributed to what is increasingly becoming imperative for most publicly traded companies," says Koury. "It's a critical factor for stakeholders. Not only are investors asking for more women board members, so are employees and other stakeholders. It's been documented in research that the more diversity on a board, the more successful and profitable a company will be. So, the business case is clear, that train has left the station."
Koury explains that engineers and geoscientists, such as McElgunn, have unique skill sets and specialties that can be coveted by boards in industry-heavy Alberta. They are often familiar with the technicalities of the business and their input and guidance is extremely valuable for making necessary strategic decisions to help steer organizations towards meeting their goals.
Her seat at the table
McElgunn had identified a gap in her career trajectory—she felt like her skills were becoming too niche, and she wanted more general development.
"I must be constantly learning and trying new things and being challenged in different ways. I can't run the same race twice. Part of the reason I targeted a board position was to find different skills, exposures, opportunities, and challenges."
She took advantage of a mentorship opportunity with Board Ready Women shortly after joining, and she explains one of the most effective things she worked through with her mentor was identifying skills she didn't know she had. This shifted her thinking to how to leverage her talents and skills as a geoscientist as transferable to other positions. "That was a big success. Thinking of myself as somebody who thinks with strategy, who thinks with vision, who's really good at risk analysis and being OK with uncertainty."
These skills, melded with her acumen for business development and strategy, ensured her value as a board contributor. Within a year, she was chosen from a pool of candidates and offered her position with the Calgary Minor Soccer Association Board.
An imperative perspective
Since taking her seat at the boardroom table, McElgunn says her skill set, especially her penchant for risk analysis, has added value—and that's not the only benefit she's noticed. "It's not just a skill set, it's a perspective. We're going to answer questions a little bit differently."
When a committee from the Calgary Minor Soccer Association Board was developing an anti-discrimination policy, a question was raised about the necessity of naming the different types of discrimination. McElgunn found herself thinking, "Having the language to express yourself is important. When we don't have language, we don't have a way of saying what we feel, and our experience can't be validated by someone else. This can lead to a person thinking their experience is just in their head, and not even real."
Another woman on the board spoke, iterating McElgunn's thoughts. "She said that it's really important for us to list all of the discrimination that can happen, and she spoke about being able to name it and have language around it. Then another woman jumped in, and another woman. Suddenly, there was a significant collective voice to direct the policy."
McElgunn speaks of the gifts we're given—athletic ability, intelligence, risk analysis, tenacity—and says it's how you share them with others that really matters. "What you do with your gifts is definitely within your control." She's still a member of Board Ready Women, doing her part to build the rungs for other women seeking board positions as they climb the ladder of success together.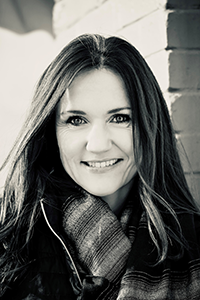 Julia McElgunn, M.Sc., P.Geo.
Learn more about equity, diversity, and inclusion for women in the professions
Women engineers and geoscientists have unique skill sets that bring value to boards across Alberta. For more information, visit Board Ready Women.