A Beacon of Strength and Freedom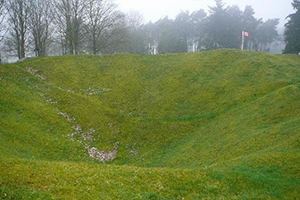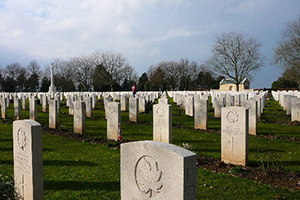 On a cold battlefield tour in northern France, then–Officer Cadet at Ontario's Royal Military College (RMC) Major Marie-Michèle Siu, P.Eng., CD, M.Sc., slowly descended into the sizable craters: giant earthen scars left from the bombs of the Second World War. On the same trip, she visited cemeteries where those lost fighting for our freedom lay in rest. The etched maple leaf marking the row upon row of white tombstones chiselled an abiding memory. "It was heartbreaking. There were not a lot of dry eyes touring those Canadian military cemeteries. It was very touching and humbling to see the actual cost of wars."
As an electrical engineer serving in the 3 Canadian Space Division (3 CSD) in the Canadian Armed Forces (CAF), and a member of the armed forces since she was 17 years old, Maj. Siu takes Remembrance Day as an important time for reflection. She marks the day at her children's school, representing military personnel. She links the poppies and ceremony with present-day sacrifices—including her lifelong efforts to keep our country safe—and the lives lost in service to our nation.
She dedicates Remembrance Day to her friend and colleague—a fellow engineer and a test pilot—who did not survive an ejection from his aircraft. "It is a risk with our job. It was a very sad day. Now, every Remembrance Day, I think about Eric and try to remember the good times we had together."
Keeping our navigation on course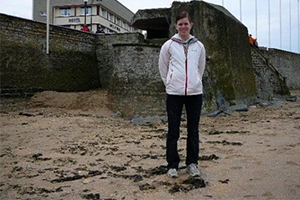 Maj. Siu contributes to our global safety by improving and protecting Canada's use of the American global positioning systems (GPSs), which began in 1978 when the American military launched the first Navstar satellite. In 2021, the United States shared military code-capable receiver cards—which enable GPS to provide enhanced resilient positioning, navigation, and timing solutions with increased system security—with the CAF for testing. As part of her role with the Navigation Warfare (NAVWAR) section of 3 CSD, Maj. Siu evaluates the compatibility and performance of these receiver cards when they interact with Canada's existing technology.
She says the GPS signal, though incredibly accurate, can be weak. After all, it must travel from Earth to the satellite orbiting 20,000 kilometres away, and back. She explains it's occasionally susceptible to natural interference, such as from changes in the ionosphere (a layer of our planet's atmosphere the GPS signal must travel through that fluctuates due to solar activity), as well as intentional interference caused by adversaries.
"We don't realize how dependent we are on GPS. Right now, we have access to it all the time in Canada. It's just pervasive. But if it's not there, it'll be very difficult. This incredibly accurate, always-present GPS signal—that's the product we've used for 22 years." She explains we not only use it each day for navigating our way through life individually, but it's also embedded in our industries—emergency services, transportation services, and even agricultural services rely heavily on GPS. "It's also a signal we use to conduct our military operations."
A suitable structure
Growing up in Quebec, Maj. Siu was a naval cadet. "I loved the summer camp, the military atmosphere, making our beds with the 45-degree hospital corner. I liked the structure and the rich military atmosphere." This penchant for military life drove her to earn her engineering degree at RMC, where she was commissioned as an officer. Contractually, she had to serve five years in the CAF after graduation, but her love of the military life persisted long past the owed time. "I've been in the military longer than I've been a civilian. The military is very much embedded in who I am, in my background—in my entity."
Maj. Siu's father inspired her to explore the engineering profession—he's also an electrical engineer. She grew up around his friends, many of whom, women and men, were engineers. "It never crossed my mind that to be a woman in engineering was something different, and no one ever made a big deal about it. I feel very fortunate about that. Now, looking back, I know this is not the case for everyone." When her father presented her with her Iron Ring, the pride was palpable for both.
After graduation, Maj. Siu moved to Cold Lake, Alberta, and began working at Canadian Forces Base Cold Lake (CFB Cold Lake) maintaining aircraft, like the CF-18s that roar over the nearby North Saskatchewan River, bending flanking birch trees with their thundering thrust. She reminisces fondly about the eight years she spent there—Cold Lake is where she met her husband, and where she delivered two of her three children. "It really just felt like home."
It's also where she earned her professional engineer designation with APEGA. Active in the Lakeland Branch, Maj. Siu attended meetings and helped organize a tour of CFB Cold Lake. There she shared notions fond only to those who love aircraft, like the scent of jet fuel wafting from a plane lingering too long on the runway.
Maj. Siu explains a part of military life is to constantly move—and she likes the variety of her role—but she felt a twinge of sadness at the finality of returning her certificate and stamp to APEGA when she relocated to Ontario in 2018.
A signal to remember
The 3 CSD she works in is comprehensive—it surveilles space with Sapphire, a military satellite launched in 2013. Sapphire catalogues active and inactive satellites and debris orbiting between 5,000 and 40,000 kilometres above the Earth's surface using an electro-optical sensor system (electronic detectors that convert light, or a change in light, into an electronic signal). The division has another satellite set to be launched in the near future: Surveillance of Space 2.
The RADARSAT Constellation Mission, a trio of identical spacecraft, can view over 90 per cent of our planet's surface every 24 hours (except around the South Pole), providing data on Earth's ecosystem and climate change, surveilling maritime activities, and providing information to aid emergency planning during natural disasters. The CAF operates the Polar Epsilon 2 project to download data from these spacecrafts, led and operated by the Canadian Space Agency, for the CAF and other government departments to use.
As one the four founding nations of COSPAS-SARSAT, Canada contributes to this international satellite-aided search and rescue system that can locate persons in distress when an emergency beacon has been activated in a life-threatening emergency. COSPOAS-SARSAT is now transitioning to the Medium Earth Orbit Search and Rescue (MEOSAR) project, comprising search and rescue repeaters hosted on the American GPS Block III satellites and two Canadian medium-Earth-orbit-capable ground stations, located in Edmonton, Alberta, and Goose Bay, Labrador. This transition will reduce beacon detection times and calculate beacon coordinates more accurately for the coordination, execution, and dispatch of search and rescue resources. "To save lives, in a faster way," says Maj. Siu.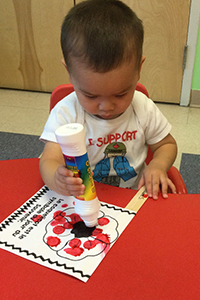 At her children's school on Remembrance Day, she watches children who come from military families carefully place poppies on a wreath, recognizing their personal contributions and sacrifices for national freedom. She gives homework to the students who do not have a parent in the military: she tells them to go home and ask if they have any extended family members or friends of the family who may serve or have served. "I say to learn more about them, do some research. Especially if it's a great-uncle from the Second World War, or if it's a person who passed away during the war who perhaps had no continuation of their family—try to learn more about those who did not come back."
Maj. Siu has six years left in her quarter-of-a-century military contract, and she's hoping to stay in service with 3 CSD, providing us all with a strong signal so we can find our way to a bright and free tomorrow.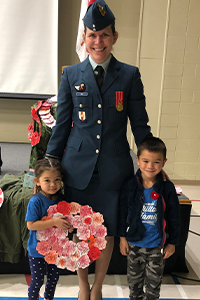 Major Marie-Michèle Siu, P.Eng., CD, M.Sc.
To All Those in Service with the Canadian Armed Forces, Thank You for Your Sacrifices