ePEG & Branch Newsletters
Review the most recent ePEG newsletter online. Don't miss out on important news or events! You can also see APEGA's most recent featured articles and news by visiting the yourPEG section.
The ePEG is Now Weekly
Check your subscription settings to ensure you are receiving our weekly ePEG newsletter! Stay up to date with all the happenings in the world of engineering and geoscience in Alberta.
ePEG Newsletter: September 25, 2020
Click image to read the latest ePEG newsletter.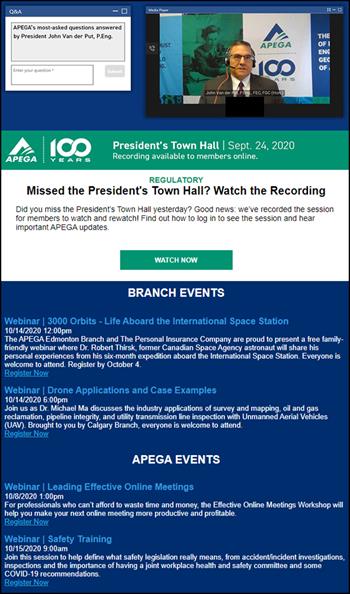 Past ePEG Newsletters

With the ePEG now a weekly newsletter, it's easy to miss some news! But don't worry, we have you covered.

See below for past ePEG newsletters from May 2020 to present. Please note: events that have passed may lead to broken links.