Professional designations open a world of opportunity
The work of professional engineers and geosciences is in demand around the world. You never know where your career might end up. For Calgarian Teresa Waddington, P.Eng., it was as a plant manager in Scotland.
It could be the research, the chance to solve multi-million-dollar problems, or the pursuit of building a better world. Then there are the travel opportunities! No matter the reason for becoming a professional engineer or geoscientist, one thing remains clear: the world is a safer place with them in it. And where that work happens to be located depends on the professional.

"Engineering is in demand in a lot of places around the world. Being a registered engineer in any country makes it much smoother to practise engineering somewhere else. Every province and every country has different requirements, but being registered in your home country is a great step that demonstrates credibility," says Teresa Waddington, P.Eng., and Health, Safety, Security and Environment Manager for LNG Canada Development in Calgary. Her career with Shell allowed her the opportunity to travel throughout the United States and to live abroad in the United Kingdom.
Balancing the risk-reward of jumping on planes
Knowing when to make that career-changing move to a different city or even country isn't easy and often results in uprooting families. Balancing the risk versus the reward is different for everyone. However, the rewards can be big.
For Waddington, she found more leadership opportunities, and when she accepted the position—with only 24 hours' notice—as the Fife Natural Gas Liquids Plant and Braefoot Bay Marine Terminal manager, it came with an old stone mansion off the coast of Scotland.

"Don't focus on the travel," says Waddington. "If you love what you do, then your passion will shine through the work. People who want to travel can sometimes let that cloud their view on choosing the right work. If you focus on the right work—and know yourself well enough to say yes to the random opportunities that come your way—you can do quite a bit of travelling."
Research before you leap
It also helps looking at countries needing professional engineers and geoscientists (see list of countries where English is the official language). Waddington recommends looking at countries where the industries are relatively new and in need of experienced professionals. For example, Waddington points to Australia as a perfect example, as the country is building new oil and gas projects every year.
Working for international companies that value international experience can also increase travel opportunities. It also helps to keep your passport up-to-date and to check if work Visas and vaccinations are required.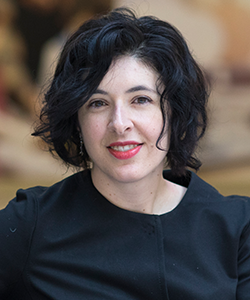 Teresa Waddington, P.Eng.
Health, Safety, Security and Environment Manager for LNG Canada Development