Never Settle: A Geoscience Journey
"I love my career; it's fascinating."
When Svetlana Bidikhova, P.Geoph., was a young girl, one of her favourite books was about minerals. "I loved the colours and shapes, and the qualities of minerals were really interesting," she says.

But it was years before Svetlana realized she could parlay her interest into a career. Throughout her schooling, she excelled at math and science, so it seemed natural she'd follow in her father's footsteps and become a theoretical physicist. However, when the time came to choose a path, Svetlana imagined herself in a career that involved applying math and science to real-world problems.

She found clarity during a conversation with a family friend, who suggested she look into geophysics, a profession he'd become acquainted with through his work as a geologist. She was intrigued: "It was a field that used exact science like physics to solve all the mysteries of the Earth and subsurface."
More specifically, geophysicists use sensitive equipment to penetrate the ground with seismic signals and, using the responses received from the Earth, perform mathematical analyses to make predictions. The field has two main streams, says Svetlana: predicting the location of natural resources and where companies should drill, and studying seismic activity deep within the Earth. Her interest was the former.

To that end, she went on to study geophysics at the prestigious Lomonosov Moscow State University ("the Oxford of Russia," she says). Afterward, she began a career in the oil and gas industry in Russia before moving with her family to Calgary, Alta., where she still lives today.
Getting established
"I didn't even have time to think. They gave us papers and said, 'You have half a year to enter the country.' We had a six-month-old baby at the time, but we did it!"
When Svetlana finished her master's degree, jobs in her field were scarce in Russia. She was relieved to find related work as a technology advisor for a friend's company, which field-tested geophysical equipment. The job involved international travel and eventually brought her to Canada—specifically, to Calgary and the neighbouring Rockies.

She was completely enamoured and, upon her return to Moscow, excitedly told her husband of all she'd seen and done—and how, without a doubt, she could imagine the family living there. "I loved the combination of mountains and huge development of business and huge expertise in oil and gas," she says. "It was really, really close to home for me."
A year and a half later, she and her husband decided to make the move. They submitted their application and were quickly accepted, Svetlana says, possibly because she was bilingual and worked in the oil and gas industry. The catch? They had to arrive in Canada within the next six months.

It was a scramble, but in 1999, the couple arrived in Calgary with their one-year-old daughter and dreams of a bright future. They quickly realized that it wouldn't be easy. Not only did her husband need to learn English to work as a geologist, but Svetlana was told she wouldn't find work as a geophysicist until she had Canadian job experience—even if that meant waiting tables.
No time to waste
"I knew that I really wanted to succeed in this country and wanted to do my profession—not other stuff."
Not interested in any role unrelated to her career choice, Svetlana pulled double duty. For months, she spent her days caring for her daughter and her evenings sending out resumes. Finally, after applying for 150 positions, she received a promising response from a Calgary engineering company that monitored pipeline infrastructure using geophysical and acoustic signalling and needed someone in data processing. It wasn't exactly a job in her field, but it was close enough—after nailing three interviews, she was hired.

Svetlana worked hard to prove herself and, after five years, she became a senior geophysicist with ION Geophysical and was finally working in her chosen profession. Two years later, in 2006, she received her P.Geoph. designation from APEGA after a very labour-intensive process. Because she'd been educated in Russia, it wasn't easy for her to get the official documentation and references she needed. Instead of sending off a few emails and making calls on her lunch hour, Svetlana had to phone Russia at all hours of the night, send her stepmother on errands to physically retrieve and mail documents, and arrange for English translation.
Paying it forward
Her path hasn't been an easy one—coming to Canada, getting settled in Alberta, and making a name for herself as a professional geophysicist—but she was never alone. In addition to her family, she relied on the help and mentorship of other professionals, and she has been offering that same help to others for the last 10 years.
"Mentorship takes time and energy you sometimes don't have because of everything else in life," she admits, "but I just believe in it."
Find Out More
Learn more about Svetlana Bidikhova's APEGA mentoring experience in her mentor profile.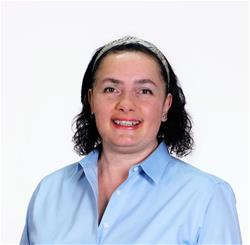 Svetlana Bidikhova, P.Geoph.