Mentorship in Any Language
When she first moved to Canada, mentoring was a foreign concept to Mairim Neves, P.Eng.
"I remember a friend told me I needed a mentor. I didn't know what the term meant, so she explained I would need someone to guide me through some things."
Fast forward 12 years—Neves has become the mentor she once needed. She has participated in the APEGA Mentoring Program since it began in 2015, and last year, she launched an Instagram account (@mujeresomega) profiling a role model for Latina women each week. Her account has grown into a not-for-profit organization, Mujeres Omega Inc., which focuses on providing opportunities for women to experience personal growth, networking, and thoughtful conversations.
A move to understand
In the industry for more than 20 years, Neves is a veteran consulting mechanical engineer. When she first came to Canada, she began a role as an engineering consultant—which she promptly left to work in a refinery where she could physically see the equipment she consulted on and immerse herself in a practical setting to learn English. This move, she tells, worked out well—she advanced to a new role as an intermediate instead of a junior consultant after the experience.
Neves provides mentorship for these types of career trajectories. She helps mentees choose their next steps, providing perspective from a veteran engineer who has encountered similar situations.
Neves stresses to mentees their career is an important eight hours of their life, but it is just a part of a whole. "There are other aspects of your life that are very important, and you need to accomplish those as well." She says she often helps engineers find jobs that help them reach their dreams, like to fulfil their love of travel, instead of finding their dream jobs, which can be rare. Her pragmatism makes her an especially effective mentor as she guides engineers in balancing the more practical aspects of career moves, like the logistics and costs of moving for a new role—or navigating a language barrier, as she once did.
All ears for mentees
"The key is to be there when someone needs advice—that's the important thing." Neves explains she tries to be informal and gives mentees the choice to connect through multiple mediums, and she often carries on her mentoring relationships beyond the time frame it takes to meet the mentee's formal goal. "I still have mentees who call me if they're switching jobs or have an interview."
Even though mentoring was a distant concept for a time, Neves benefitted from guidance throughout her personal and professional life. When she came to Canada, she joined Toastmasters. "My English was very broken. I could barely speak. My Toastmasters teammates took on the task of helping me, and even today, we still meet." She has now earned her Distinguished Toastmaster award, the highest level of educational achievement with the group.
She says her aunt, a civil engineer, is someone she has looked up to since childhood. Neves often solicits her career and life advice—her aunt is the reason she chose to work in the profession.
Neves is now imparting her well-earned knowledge to someone she has a lot in common with—a female engineer who has immigrated to Canada from Venezuela—paying forward her effective and seasoned grasp of engineering in this country to the next generation.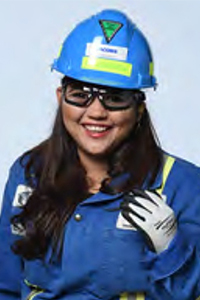 Check out APEGA's Mentoring Program Today!
Join
APEGA's Mentoring Program
to share your knowledge or learn from seasoned professional engineers and geoscientists like Mairim Neves, P.Eng.