Helping Hands Inspire Deputy Minister Paul Wynnyk

What's better than Albertans helping Albertans?
If you ask Paul Wynnyk, P.Eng., Alberta's deputy minister of municipal affairs, the answer is easy—nothing. "I'm really inspired by that good, old Albertan spirit to pitch in and lend a hand," he attests.
It's a maxim he carried through his career in the Canadian military, and now carries as chair of Alberta's COVID-19 Vaccine Task Force. He expresses seeing Albertans helping each other throughout this past year as a highlight for him—from early offerings of personal protective equipment, to more recently standing up facilities to help with vaccinations. These acts have fortified Wynnyk's enduring faith in Alberta's sense of community—something he's cherished since he was a child.
A Small-Town Heart
Growing up in the village of Breton, Alta., surrounded by lush, boreal forest and sky-high Rocky Mountain views, Wynnyk developed a deep passion and respect for the landscape, often partaking in fishing and hiking. Breton's small population—hovering around 500, just as it has since the 1970s—leads to residents being a tight-knit group, something that Wynnyk attributes his "small-town heart" to today.
"I was blessed to grow up with that sense of community, family, and people looking out for each other," he explains.
Wynnyk's father—a Second World War veteran and the commanding officer of the local army cadet corps—encouraged his blooming interest in cadets and the military, which appealed to his ingrained moral to be of service. By the time he was in high school, he knew he wanted a military career.
A Career of Adventure
"I liked the idea of the army lifestyle, the adventure, and travel," professes Wynnyk. Led by his interest in explosives, he studied engineering at the Royal Military College of Canada (RMC). He graduated with a bachelor's degree in civil engineering, later returning to RMC to earn a master's degree in war studies. He also earned an MBA in international business at the University of Alberta. In 1986, he was commissioned into the Canadian Military Engineers—the professional personnel group for engineers working in the Canadian military.
Posted in a combat engineering regiment in Germany at the end of the Cold War, Wynnyk learned how combat engineering applied to roads, water supply, bridging, and horizontal construction. He has had various overseas deployments and postings, including in crisis areas such as Afghanistan, the Democratic Republic of Congo, and Cambodia.
Wynnyk considers these postings a career highlight, but he has always kept his heart at home in Alberta with his family. His Albertan pride runs deep to his roots: "Both sides of my family were here before Alberta was a province, prior to 1905."
In 1997, he became commanding officer of 1 Combat Engineer Regiment in Edmonton, and in 1998, he joined APEGA. "I'm a big supporter of APEGA. I'm a proud professional member."
An Albertan Who Serves
Leading the province's COVID-19 vaccine rollout team is a role Wynnyk is pleased to take on, but he is looking forward to the end of the pandemic and being out of a job. His team is responsible for providing oversight of and support on the non-health aspects of the rollout: logistics, distribution, integrity, and the security of vaccine supply chains.
The biggest challenge the rollout faces? Constant change.
"In the military, you get trained to rapidly adapt to change. In fact, my wife often wonders why, when things change quickly, I never get excited. I tell her it's because we're conditioned to anticipate the unexpected and plan for it. That, combined with my engineering problem-solving abilities, allows me to take complex problems and 'eat the elephant one bite at a time.'"
Wynnyk stresses that the key to making it through any complex process is patience. Still, he's hopeful, and he says he's beginning to see the light at the end of the tunnel.
"I'm looking forward to reaching the point where a full supply of vaccines is readily available to all who need it. That's going to be a real game changer—not only for Albertans, but for the country and, indeed, the world."
Learn More
To find out more about the COVID-19 vaccine rollout and the latest COVID-19 updates, please visit: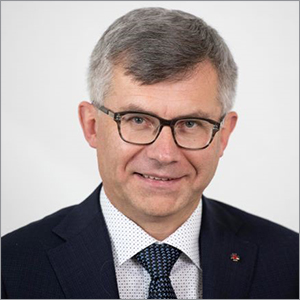 Deputy Minister Paul Wynnyk, P.Eng.