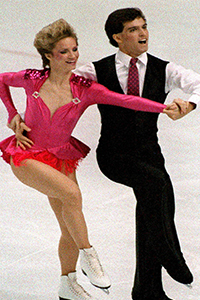 He marches with his teammates, their flag-bearer proudly hoisting the Canadian colours high. As they flow through the dim tunnel of Calgary's McMahon Stadium and swell onto the pitch for the opening ceremony of the 1988 Olympic Winter Games, the spectators gathered on the west side of the stands catch a glimpse of the flag. "The crowd started this roar that came across the field, into the tunnel, and hit us. I felt that sound physically. Its impact was almost at a molecular level." In an instant, Rod Garossino felt like the Olympian he was.
This same dedication, grit, and thrill of being part of something meaningful motivated Garossino throughout his professional life and eventually brought him to the APEGA Foundation in 2015, where he served as Executive Director. Until his departure more than two years later, he lent his momentum to the foundation as it inspired the next generation of dreamers and problem solvers by providing financial assistance to students in engineering and geoscience.
A warm reception onto the ice
Garossino and his sister Karyn began ice dancing as children, participating in their first competition at age nine and seven, respectively. The competition launched a 16-year-long career that saw them place 12th in the ice dancing competition at the Winter Olympic Games. By the time they retired in 1989, they had their names pinned to Canadian history as one of only two couples to have received gold at the novice, junior, and senior levels in competitive ice dancing in the country.
He says their success came from their close relationship as siblings and their joint love of the sport. "We were best friends, always playing together. Skating together was just an extension of that play relationship. We said, if we're going to be on the ice at the same time, why don't we skate together? That will be a hoot." Their relationship, dedication to the sport, willingness to take on opportunities, and familial support—meshed with a generous dose of luck in avoiding injury—morphed them into Olympian-level competitors.
A chassé into a new journey
Seeing the Olympic flame extinguished as he drove away from the stadium made Garossino reflect on the years he spent preparing for the Olympics, and how the competition itself felt like a lifetime elapsing within two weeks. "Now I had a discernable sense a new part of my life was beginning."
His time as an athlete cultivated an interest in sport sponsorship, which led him to non-profit fundraising—and he found himself pursuing a career of service. "What is most important to me is feeling like I'm part of something with meaning and purpose, and which has an impact on my community." That same drive, coupled with the dedication that enabled him to become an Olympian, propelled him to support the professions through the APEGA Foundation.
From the tunnels of McMahon stadium, to the halls of the APEGA offices, to Fresh Start Recovery Centre as director of fund development, Rod Garossino's dedication glides him places where he can lift others—just as he used to gracefully hoist Karyn during their dances—to greater heights.