Forging a Path for Future Indigenous Engineers
Engineer-in-training Lucy Kootenay stands on a rock-littered outcropping of Resolution Island, wind whipping loose hair around her primary-green hard hat. She looks out at the calm, expansive Davis Strait—on one side of her, ice floes jut clean lines atop the calm, steel-blue water. She turns to see land hosting scattered fuel tanks, debris, and the sea cans she temporarily calls home. It's August 2019, and she is 300 kilometres southeast of Iqaluit, Nunavut, in the Qikiqtaaluk Region, working on AECOM's remediation team.
Constructed as part of the Pole Vault system in 1954—a system using microwave radio signals to communicate over vast distances—the site has been used by the United States Air Force, the Canadian Coast Guard, and the Canadian Department of National Defense. With the land no longer in use, the remediation team was excavating and removing contaminated soil, decommissioning and removing fuel tanks, and cleaning up miscellaneous debris.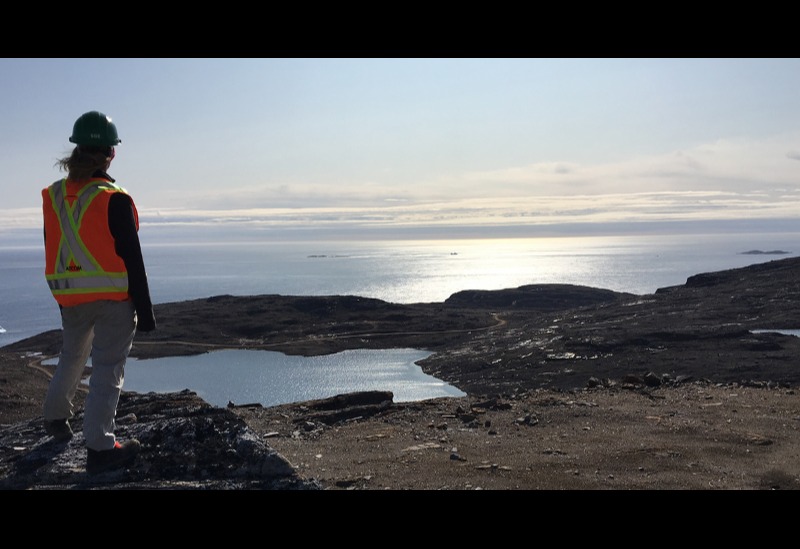 A voice for the community
This is where Lucy finds her work as an environmental engineer-in-training fulfilling and frustrating—she always longs to do more. As someone who identifies as Indigenous, she recognizes the special and effective role she plays when remediating land like Resolution Island.
"Having people in the industry with Indigenous ties helps us strengthen connections to the land and bring forward meaningful consultation, which is especially important in Northern Canada. Often, it is thought that these sites are abandoned and are too remote for a human presence, but what needs to be remembered is that hunting groups may frequent these areas. They might be a significant part of their livelihood and traditions."
She emphasizes that peering through this traditional lens throughout the remediation consultation keeps these issues at the forefront. "You want to do what's best for all parties involved in a cleanup and especially address Indigenous concerns, but sometimes the procedures in place don't always properly facilitate this. That often becomes a source of frustration."
Finding her path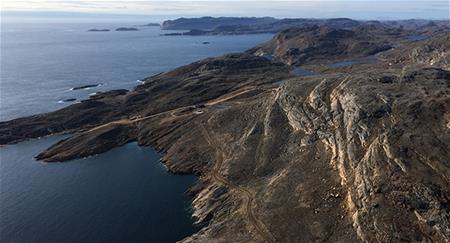 Lucy discloses when she became an engineer-in-training, she found herself in a position to bring light to these issues. She is no stranger to this role—her father is an Indigenous liaison for MasTec Canada, and she hopes to one day follow in his footsteps. "I think the end goal is to be a middle person, someone who has one foot in the industry and the other foot in the community, with the intent to facilitate more meaningful conversations."
She reveals her father is the reason she's not had to face a lot of challenges as someone who identifies as Indigenous. "I am very lucky in the sense that my parents worked to break down those hurdles, especially my dad. He came before me and paved a path and all I had to do was choose to walk down it."
Clearing a path for those who follow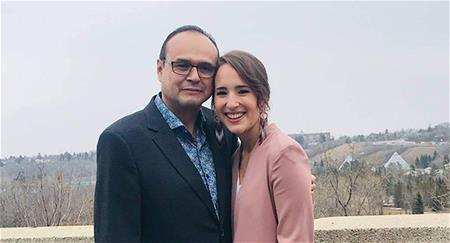 Lucy breaks down the same hurdles for others. As a student at the University of Alberta, she formed the university's Indigenous Engineering Student Association. Now, she works with the Blooming Program at AECOM—a program working to hire newly graduated engineers who identify as Indigenous, transition them into the company, and provide them with mentorship. The program has a monthly call during which attendees laugh, chat, and connect over issues. "As an Indigenous person, worldly events and issues may affect you differently. These calls create a community where people share your perspectives and provide a sense of understanding."
Mentorship is at the forefront of her work with the Blooming Program. Like her father paved a path for her, she wants to help clear the way for those who follow. "Every step we take, we want to make more space for the next generation coming in."