Making Room at the Drafting Table:
One Woman's Quest for Gender Equality in Engineering
How do you eat an elephant?
One bite at a time.
This proverb—which has been attributed to several different historical figures, including a philosopher, an activist, and an army general—offers a charming visual, but for Elinor Linney, P.Eng., it wasn't just a statement. It was a way of life.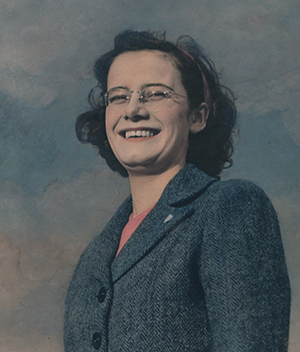 Elinor Linney, P.Eng., on graduation day in 1948 after earning her engineering degree from McGill University.
Born in Charlottetown, P.E.I., in 1927, Linney grew up unaware of the issue of gender inequality that was evolving at the time. Her father, an engineer with the Canadian National Railway, had always encouraged her to study engineering, instilling in her the approach of solving challenges using knowledge, strategy, and skill. It wasn't until she started attending McGill University that she realized the importance of the path she was on—she was the second woman to be admitted to an engineering program at the university and the first woman to be accepted into its electrical engineering program. She became the first woman engineer licensed in Quebec when she graduated in 1948.
She could have considered these firsts as a sign of things to come. Instead, she considered them challenges, believing that showing and doing were the way to change opinion. She had gained entrance into what was considered a man's world, and she was determined to show she belonged at the drafting table because of her qualifications. Things gradually changed in the final years of her career, but she spent her professional life bringing attention to the discrimination that was keeping bright, talented minds from joining the profession.
Women not welcome
Not everyone at the university was enthusiastic about the idea of a woman in engineering. In a 2010 interview with Ordre des ingénieurs du Québec's PLAN magazine, Linney remembered a mechanical engineering test that took place in a boiler room during her fourth year at university: "A stoker who was loading the coal ignored my request for coal by pretending that I did not exist. It was a classmate who had to place the order for me. At that time, and for the first time, I felt an opposition to my presence in this world that until then had been reserved for men."
After graduation, she discovered there were no jobs—no company would offer an engineering position to a woman. As a result, she went to work for the Bell Telephone Company in Montreal as a switchboard operator, a job she thought would be temporary.
Breaking down doors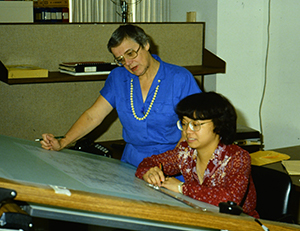 Shown here with an associate at the drafting table, Linney (left) spent many years proving there was room for women in a profession that had seemingly been reserved for men.
Eight years after being licensed as an electrical engineer, she was offered a position as a junior engineer with Shawinigan Engineering Company in Montreal. That was the start of her successful, 35-year engineering career.
But it wasn't a career free from frustration—she still fought against the same barriers she had known well as a student and a graduate, particularly in the 1960s and '70s. She told one story of being part of a design team for a major Canadian hydroelectric project—unlike the other members of her team, she wasn't permitted to visit the site because it didn't have facilities for women. She lobbied for years to change minds so women engineers could have the same opportunities as men.
Recognition and helping others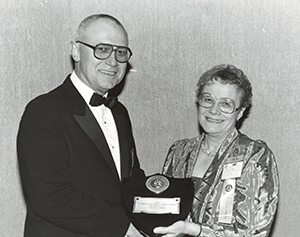 Linney was recognized by the Instrument Society of America (ISA) in 1985 for her tremendous work and outstanding service. She travelled from Calgary to Philadelphia to accept the Distinguished Society Service Award from ISA past-president Leslie Zoss.
After moving to Calgary in 1974, she worked on control and instrumentation projects and even travelled to China as part of a technical delegation with the Instrument Society of America (ISA)—now called the International Society of Automation. Her work with ISA led to her election as president of the society's Western North America district.
In 1985, she received ISA's Distinguished Society Service Award for her outstanding service and significant benefit to the society—one of only five members that year to receive the honour in a society with a worldwide membership of more than 30,000.
She also found an avenue for encouraging and supporting others through the Business and Professional Women's Club of Calgary. There, she met and mentored other women who were experiencing roadblocks to their career development, just as she had. She ultimately served a term as the club's president.
Leaving a legacy
Linney wore her iron ring with pride. She considered engineering a noble and valuable profession and encouraged young people to study and practise it. And just as her father had done for her so many years ago, she encouraged others to become engineers regardless of gender, making it easier for those who came after her.

"All things considered, I really enjoyed my career," she told PLAN magazine. "Even though there were a few times when I had to convince some individuals of my worth, it seems to me that I had no real problem standing up for myself. Today, things have changed for the better, even if women remain underrepresented in the profession. That's why I recommend engineering to anyone who wants to take on major challenges, because that's what the engineering profession is all about."
A supporter for women in engineering in Canada, Linney passed away on May 2, 2020, in Ottawa. She was 92.
All photos courtesy Robert Linney.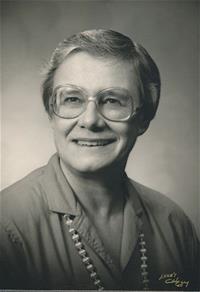 APEGA supports diversity in the professions
Take a look at some of the ongoing Equity, Diversity and Inclusion (EDI) initiatives that we are currently undertaking or planning.