Driven by Values: Professional Engineer Recognized with Top 40 Under 40 Award

"Mach 32 is the speed at which one can travel around the entire world in an hour," smiles Chris Terriff, P.Eng.
It's also a combination of the first two letters of his and his partner Dr. Marc Curial's given names and the age at which they launched their Edmonton-based start-up—aptly named MACH32—through which they create innovative medical devices.
They have invented and produced a portable aerosol containment tent—a plastic tent held up with steel tubing that surrounds a patient's head and keeps viral aerosols contained using negative pressure. This means those treating COVID-19 patients in hospital settings won't get infected and caregivers can reach patients via four access ports. It is now a commercially available product in hospitals across Canada. They also have working prototypes of autoinjectors to treat trauma—SAVIOR and IMSAFE—currently in testing for usability by first responders and military medics. The autoinjectors safely deliver life-saving medication and will soon begin pre-clinical testing and the regulatory approval process.
Terriff has been named one of Edmonton's Top 40 Under 40 for 2021 by Edify magazine for engineering these devices and making Edmonton a better place to live.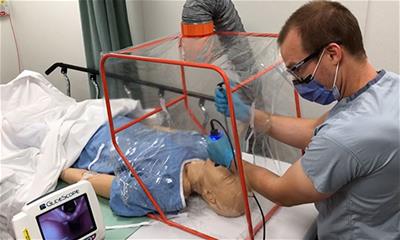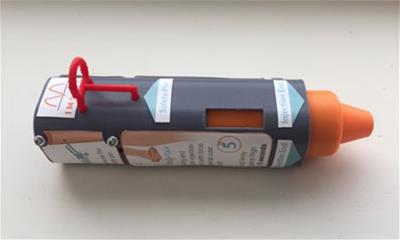 Commitment to his home
His wrist is adorned with a bracelet of intwined elastic bands his six-year-old daughter, Wynn, made for him in PCL Construction colours, where he works as a construction manager. "I couldn't be luckier to be in the position I am with PCL, surrounded by such a talented group of people and countless opportunities to build things bigger than ourselves." The bracelet is a bright yellow and green talisman of what he holds dear—bringing projects to life that develop infrastructure in the province he has always called home. Terriff explains when he had children, he began thinking more about how he could improve the world—Alberta specifically—to become an even better place for the next generation.
At PCL, he is currently working with a team to build a heat-recovery steam generator, a unit that uses waste heat from a combustion gas turbine to create steam. The steam is routed through an additional turbine to generate extra power, adding sustainable energy to the province's power grid. He also volunteers on PCL's United Way Committee, helping to raise donations for those who need support most in the community.
Thinking locally and globally
Supporting the local community and contributing to Alberta's economy are also woven through MACH32—Terriff and Dr. Curial built a team of Albertans and use local manufacturers and distributers.
"We're building the future today. Whether it's new businesses or opportunities—that's what my kids and the next generation are going to need to thrive, and that's what we need to take our province to the next level. To me, it's being a little part of that bigger picture to drive our province and economy further."
Terriff also thinks globally, hoping to send the IMSAFE autoinjector to developing nations to help stop postpartum hemorrhaging in mothers without access to postpartum care. "I know how important my family is to me, how important my wife is to me. At the end of the day, if I can help save people's lives, that's a really big driver of mine."
He contributes his achievements, including Edify's Top 40 Under 40 award, to living a values-driven life—what he calls his moral compass to find and work with those with common interests. He is taking the next decade to build larger projects, to scale solutions to major problems, and to contribute to a strong, values-driven Alberta for the next generation.
Learn more about MACH32
Creating innovative solutions to life-threatening scenarios is just the beginning for this Edmonton-based start-up.