CBC's Bob McDonald Tells Us About Science as He's Seen It
Having brought science and engineering to television, radio, and stages across North America for more than 40 years, Bob McDonald, host of CBC Radio's long-running Quirks & Quarks program, can rightfully say he's seen it all.
From the advent of telecommunications in the 1990s to our ability to work completely online due to COVID-19, and from the Egyptian pyramids and Roman aqueducts—"bridges in the sky," as he calls them—to watercraft and suborbital spacecraft, his curiosity and wonder fuel his fun and engaging, science-based radio program.
"I see science like a pair of glasses you put on," says Bob, who presented a webinar for the APEGA Calgary Branch on Tuesday, September 22. The webinar is open to everyone, including non-members. "You put on these scientific glasses and you start looking around at the world, and you see the same things that everyone else sees, but you see it in amazing detail.
"You can look down into the very, very tiny, you can go into the cells of a leaf that turn sunlight into food—we still don't know how plants do that, you know. Or you can look out right to the edge of the universe and see galaxies and stars and alien planets. It's amazing what science does."
Science and engineering into the future
Speaking from his condo in Victoria on Vancouver Island, which is currently engulfed in thick smoke from the wildfires on the West Coast, Bob has been examining the future of human society as we deal with a pressing global situation: the reality of climate change.
"We need to move on to a clean era so that we can tackle this little thing called climate change. And I believe we can do that with engineering."
He's not convinced we must completely abandon our current reality and radically change our way of living. Because if science can imagine a solution, then engineering will build it. We can expect to see an energy evolution instead of a revolution, he says, as engineers and geoscientists are already making huge leaps and bounds in the field of energy resourcing.
"We've been spoiled with fossil fuels. They really are incredible: they're really energy dense, you can carry them around in gas tanks or coal bunkers, they store energy for a long period of time, you can use them when you want—but we have to move on to something else. Maybe it's just a different way of getting energy out of fossil fuels rather than just setting fire to them.
"But nuclear, wind, solar, all these things working together, we're going to see energy coming from a number of different sources and it's all got to be blended together. And this is great, because we need to move on to a clean era so that we can tackle this little thing called climate change. And I believe we can do that with engineering."
Walking on Mars and the moon
Starting out as the host of the CBC television show Wonderstruck in the 1980s, Bob brings the complexity of science and engineering down to a level anyone can understand, including children and young adults. He also gets to participate in the coolest stuff.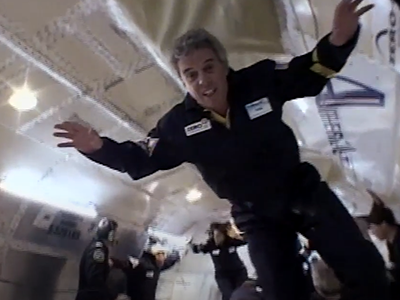 At the APEGA Calgary Branch webinar—presented by The Personal Insurance Company—he shared a video of himself participating in a zero-gravity flight, which took him into the suborbital atmosphere to experience the weightlessness you feel in space. He also experienced "partial Gs," in which the pilots simulated the gravity of Mars and the moon.
"When they do those zero-G flights, the pilots are flying [the plane]—they don't put the plane up and stall it, which I thought they used to do and just let it fall out of the sky," Bob explains. "But they can actually control how much gravity you feel. They have a G-metre on the dash and they just count down the Gs as you're going over the parabola.
"So they gave us one-third gravity, which is the gravity on Mars, so I got to see what it was like to walk on Mars, and you're lighter—you walk differently on Mars. And then they gave us one-sixth of a G, which is the gravity on the moon. So I got to walk on the moon and feel what it would be like."
What's next on the horizon
Bob's presentation at APEGA's webinar was only his second-ever video presentation. He says he's more comfortable speaking in front of large audiences so he can receive instant feedback, but he recognizes the opportunity these webinars afford in reaching a wider audience.
He's also keeping busy conducting remote interviews and recording Quirks & Quarks—an award-winning science program with a national audience of nearly 500,000 listeners—from his home studio, and writing a book about the energy evolution and how we can chart the path to a cleaner, greener future. That book should hit shelves some time in 2021.
Getting back to nature
With the pandemic, the realities of climate change, and the isolation of working remotely converging in a year defined by misfortune, the man who has seen what science can do knows exactly what we need to calm our nerves: Mother Earth.
"Just get out of the house. I know it's COVID time, but get outside, go into nature, and look at this remarkable planet that we live in. Get down on the ground, turn over some rocks and see what's crawling around underneath them. Look at a tree and marvel how it holds itself up without falling over. There's just so much to see on this beautiful planet because it's the best planet in the universe and there's nothing else like it. So get out there and enjoy it."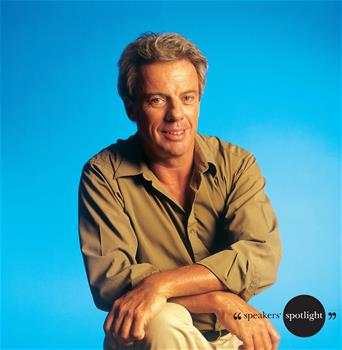 Bob McDonald
Host of CBC Radio's Quirks & Quarks