APEGA Awards Get K-12 Students Electrified for STEM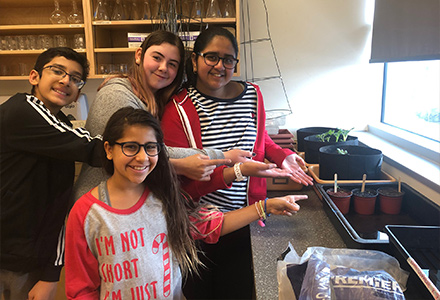 "Every career has a little bit of science in it, and I just want the kids to see science is really cool," smiles Jenn O'Neill, a teacher at SouthPointe School in Fort Saskatchewan. O'Neill's Grade 7 class was awarded an APEGA Innovation in Education Award in 2019.
With the awards, APEGA is helping teachers create hands-on and engaging classroom experiences to foster a love of science, technology, engineering, and math (STEM) in their students.
On Aug. 22, 2022, applications open for the APEGA Innovation in Education Awards—up to $5,000 is awarded to classes from kindergarten to grade 12. The money enables Alberta educators to incorporate meaningful educational experiences for students, teaching them to leverage engineering and geoscience concepts to positively impact their community.
Hands-on engineering and geoscience
"As a regulator of engineering and geoscience in Alberta, APEGA is investing in equipping students with the skills, knowledge, and attitudes necessary for success in the future workforce," explains Alissa Boyle, APEGA outreach manager.
Selected by a panel of APEGA staff and professional members, recipients for the Innovation in Education Awards are chosen based on how well their project proposal meets the selection criteria.
Using the funding, students create a curriculum-centered project or prototype focused on engineering or geoscience that meets a need or solves a problem for their community. The full class participates and the project's effect is measured to gauge its success.
Students work on projects throughout a semester or course during the school year, completing them between February and June.
Improving the community with STEM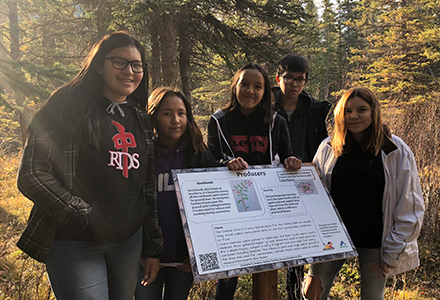 We want to support the next generation of professionals in the workforce. We want to help these students build creativity, innovation, and problem-solving skills," explains Boyle.
Past projects include programming a machine to automatically sort recyclable plastics from non-recyclable items, developing devices to help senior-centre residents with daily challenges, creating informative local trail signs about ecology, and building a wind turbine to power a phone charger.
"As a junior-high science teacher, I think STEM is super important because it takes what they're learning from a textbook—the knowledge and information as a teacher I'm required to teach—and applies it in their everyday life," asserts O'Neill.
Upcoming Events
APEGA tailors events and programs throughout the year to students in grades 1 through 12—the engineers and geoscientists of tomorrow. Here's a snapshot of some our other upcoming events:
Curious Coders Club
Do you know a child interested in learning to code? Join the Curious Coders Club, a six-week virtual series designed for students in grades 4 to 6 with no previous coding experience. Keep an eye out for the next set of sessions! Spots are limited!
---
Rock & Fossil Clinic
Be introduced to the wonders of geoscience (rocks, minerals, and so much more!) at the virtual Rock & Fossil Clinic. Learn from professional geoscientists and geoscience students and discover what a career in the field could look like!
Register for this free, family-friendly event on Oct. 1, 2022!
---
Science Olympics
The Science Olympics is back! In 2022, students tackle engineering and geoscience problem-solving challenges and compete alongside other teams from grades 1 to 12 across the province—in person or virtually.