An Investigation in Trust
Garth Jesperson turns on his computer, opens his inbox, and begins sifting through inquires and complaints. His apricot-coloured Shih Tzu-Poodle-cross, Chai, perches beside him. She watches cars drive by out the office window.
"She makes her rounds. She's with me from about 7 to 10 a.m. and then she'll move on to someone else in the house," he smiles.
Garth is not who you would expect to encounter when you think of a professional investigator. He is warm, quick to laugh, and his face lights up when he talks about Chai. Yet his background is serious—he was an RCMP officer for 28 years, working in general policing and then in the Commercial Crime Unit in Edmonton investigating large-scale frauds.
Now, he's APEGA's director of investigations.
Two Sides to Every Story
"The motivation that brought me to APEGA is the same motivation that brought me to a career in policing. It's the desire to want to help people and be part of a solution," professes Garth. APEGA's mission to protect the public and environment drives him, just as he was driven to protect the community when he was an officer.
Garth says what makes him and his team of five professional investigators successful at their jobs is their commitment to objectivity. "We're there to hear both sides of the story—because there's always two sides to be told. When we receive an allegation, it's just that. It's unproven."
He attributes their open-minded attitudes and dedication to fairness to most of them being former law enforcement officers or mediators. "We're that way by virtue of our backgrounds—it's how we're wired."
The Investigations team comprises no professional engineers or geoscientists and has no decision-making authority, two facts Garth explains are strong benefits. "It takes the onus off us, allowing us to be independent gatherers of facts. In the end, it's an entire committee of 26 professional members deciding if a matter is terminated or sent to a hearing—it's a very robust process."

How a Process Breeds Objectivity
A robust process, indeed. It begins in Garth's inbox, where complaints and inquiries land. He filters, responds, and assigns complaints to his investigators and a panel of professional engineers and geoscientists who volunteer as part of the larger Investigative Committee. The Investigative Committee consists of 26 volunteers—all professional members donating their time to ensure the safety of Albertans.
Then, Garth's investigators begin their fact-finding mission. Once they have completed interviews with the complainant, professional member or permit holder, and any corroborating witnesses, they compile evidence, and produce a report of their findings. The panel approves the report and presents a recommendation to the Investigative Committee. The committee decides whether to terminate the complaint for insufficient evidence or send it to APEGA's Discipline Committee for a hearing.
"It's a nice symbiotic relationship, because our Investigative Committee has the knowledge and expertise required to judge their peers. This, combined with the interviewing expertise and advice of my investigative staff, ultimately means balanced and fair decision making."
Garth sees it's 5 p.m. already, and Chai barks in the next room. He smiles and logs off his computer, satisfied that once again he spent his day making Alberta a bit safer.
Learn More
Do you want to know more about APEGA's investigative and disciplinary processes?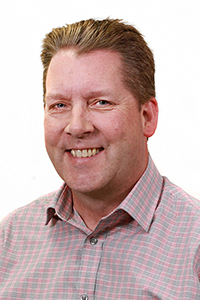 Garth Jesperson
Director, Investigations