A Tangible Benefit
Karan Bhavsar, E.I.T., sees the power in the tangible. In 2020, he worked on the LEED certification, a worldwide green rating system, for the Stanley A. Milner Library in downtown Edmonton, ensuring sufficient ventilation and conducting an analysis of the radiant effects of heating throughout the building. "Being able to point to a building everyone knows and sees in their day-to-day lives and say I helped to make part of this possible fills me with pride."
The tactile and visual representation of projects appeal to him as a mechanical engineer-in-training and self-proclaimed tinkerer. His favourite project to date is planters he's made with his father in their backyard because it has the most visual impact in his life—he says he can clearly see the effects of the work.
Bhavsar appreciates the hands-on nature of his current role, where he is designing a large air handler for a clean room. "You really touch each and every aspect of the unit we're designing, so having that knowledge of what you put on paper versus what gets built on the shop floor. That's one thing I want to get better insight on to understand how I can be better in my role and make things easier for the people I work with." He can follow the product through the creation process from design and manufacturing to installation and operation.
Role models abound
He saw his first examples of the tactile nature of the profession when he was young and living in India. His father owned a contracting company that worked on civil and structural construction projects in industrial zones and residential neighbourhoods in Ahemedabad, Gujarat. From the work he did in bustling textile mills to palatial homes in quiet residential streets, his passion inspired Bhavsar to be an engineer. "He'd direct the site personnel, turning plans into reality. The image I have of him is being on site and directing that controlled chaos."
His father isn't Bhavsar's only advisor in the profession—he's had a mentor through APEGA's Mentoring Program for more than a year helping him accomplish his two major goals: moving from consulting to a more hands-on role and working through his competency-based assessment. The strategies, guidance, and perspective he gleaned from this relationship pushed him to look internally and choose goals and shift his career to better suit his interests.
APEGA's Emerging Professionals Summit
Bhavsar attended APEGA's Emerging Professionals Summit in 2021 to help advance his career, citing it as a great experience. "It had a pretty big impact on me in the sense I was able to attend a lot of panels. The ones that stood out to me were regarding personal speaking and being an effective communicator, and the competency-based assessment process."
He says he really appreciated the chance to connect with other professionals and see what decisions they made when faced with similar challenges. He identified a common choice newly graduated engineers face: whether to enter the workforce or pursue postgraduate studies. Choosing to enter the workforce, he found himself curious about why his fellow engineers-in-training had made their choices—he found the other perspectives he gained through networking insightful, especially when comparing his reasoning to theirs. "Even if you don't necessarily want to go down that road, there's a lot to be learned from people's stories and where they came from to where they are now."

Paying mentorship forward
He connected with a student at the Emerging Professionals Summit looking to enter the consulting industry. "He had a lot of questions about how to break into the industry. And once you break in, how to become effective at your job and continue growing." They've kept in touch, and Bhavsar was able to communicate some guidance and advice. "I try to share some of my experiences because I could have done things better, and I want to let people know I've had those experiences where I've learned. I want to share those experiences preemptively so they can learn without having to go through the same process."
One tip he has embraced is to carry around a notebook and write down his experiences, saying nothing compares to having a pen and paper, and it's useful to have a record of what you've done and how you've developed your skills.
Since mentoring and integrating last year's conference learnings, Bhavsar is soul-searching to figure out what he'd like to accomplish next. For now, he's going to keep on creating benefits for himself and others every step of the way.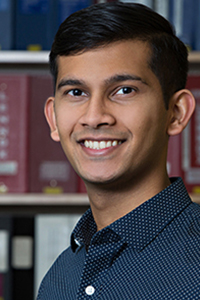 Register for APEGA's Emerging Professionals Summit Today!