A powerful impact
From Afghanistan to Kenya and beyond, solar power expert Faruq Vishram, P.Eng., is using his professional engineering skills to empower developing communities in Central Asia and East Africa, paying it forward as a volunteer with the Aga Khan Development Network.
It was a sight Faruq Vishram, P.Eng., will never forget.
Four years ago, on his last night in Bamyan, Afghanistan, he took a drive to see how the lights were working at the city's new hospital, where he had just spent 10 days overseeing the installation of a 1,653-panel solar power plant.
The project's aim: to help reduce the hospital's dependency on expensive and unreliable diesel-generated electricity, while at the same time lowering its carbon footprint.
"The whole street outside the building was lit up," recalls Vishram, "and it was covered with kids playing soccer."
In remote, off-grid Bamyan—where most streets are pitch dark after sundown—it was a rare sight, indeed.
"It was the only place at night where they could play," Vishram explains with a smile. "And the grown-ups were either watching their kids, walking up and down the street visiting, or reading a book. That picture still sticks with me."
A soft-spoken professional electrical engineer who lives on an acreage near Sherwood Park, this was Vishram's first assignment with AKDN—the Aga Khan Development Network—but not his last.
He's returned to Central Asia several times since then to volunteer his skills on various other renewable energy projects that are powering—and empowering—local communities.
"It feels incredible to contribute," says Vishram. "This is probably the best 'job' I've ever worked on in all my career."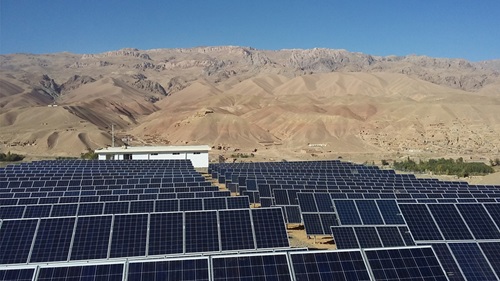 Tucked between the Hindu Kush and Koh-i-Baba mountain ranges, the Bamyan solar farm, with 1,653 panels and 576 storage batteries, is the largest in the Aga Khan Development Network.
Looking Back and Paying It Forward
AKDN is a network of development agencies founded by the Aga Khan, the hereditary spiritual leader of Ismaili Muslims. Most of the organization's projects—including schools, hospitals, electricity generation stations, and social programs—are undertaken in the poorest parts of Asia, Africa, and the Middle East.
Vishram's relationship with AKDN began long before he set foot in Afghanistan.
Born in an Aga Khan–funded hospital in Kenya, Vishram grew up in a small, rural village with no electricity or running water. As a child, he attended Aga Khan schools and excelled in his studies. He was among a select group of students who received Aga Khan scholarships to attend university in England, where he decided to pursue engineering.
"As a kid, I always tinkered with different things and got zapped a few times playing with power. So that kind of pushed me into engineering," he jokes.
Not surprisingly, he majored in electrical engineering.
After graduation, Vishram returned to Kenya, but political unrest in the region forced him and his family to relocate. In 1977, they found a new home in Edmonton, where his sister was already settled.
Over the ensuing decades, Vishram built a successful career in power engineering, working for companies like ATCO, EPCOR, Suncor, and Syncrude. He was also a partner in a successful consulting firm, GKO Engineering. But it was his experience with Black & Veatch Canada Co., building two major solar farms in Ontario, that caught the attention of AKDN after he signed up as a TKN volunteer in 2014.
TKN stands for Time and Knowledge Nazrana. It's a declaration made by people of the Ismaili faith—like Vishram—to gift one's time and knowledge in support of Aga Khan projects around the globe.
"It's a way to share your expertise," explains Vishram. "To make an impact."
A Gift for the Greater Good
His motivation for volunteering was simple: it was time to give back to AKDN.
"I've had a very fulfilling life and career, and none of this would have ever happened without my AKDN education and scholarship. It's kind of a way of paying it forward."
AKDN contacted him just a few months after he filled out his TKN application.
A state-of-the-art, 141-bed hospital was being built in sunny Bamyan, in the mountainous Central Highlands of Afghanistan, and its adjacent solar plant—also under construction—was facing some big hurdles.
"There were technical challenges and quality of construction challenges," explains Vishram. "Many of the most skilled people left the country during the war with the Taliban, and the local contractor—though he was trying—just didn't have the know-how or tools for the project."
Vishram's expertise in project management and solar power was urgently needed to bring things back on track.
How Soon Can You Fly To Afghanistan?
Vishram's first trip to the country, in September 2016, was a reconnaissance mission.
"When I arrived the foundation for the solar panels was up, a lot of structures were up. But just about every structure had to be redone," remembers Vishram. "The welding on the posts was breaking. The foundation design was poor. After a few years, the wind would have taken it away. It was very serious."
Returning home, Vishram spent the winter redesigning the project, literally from the ground up. Also helping with the design was Edmonton structural engineer Iqbal Popatia, P.Eng.
With limited choices for available materials in Afghanistan, they decided to use bolted connections, instead of welding, to attach the solar panel frames to the post foundations. A new layout was created keeping the prevailing winds in mind, to reduce resistance on the support structure.
Other Edmonton-based professionals played a big role in the final design, including Rick Steinke, P.Eng., who pitched in with the transmission line design.
"There was a lot of out-of-the-box thinking, adapting the job to the tools and skill sets that were available in Afghanistan."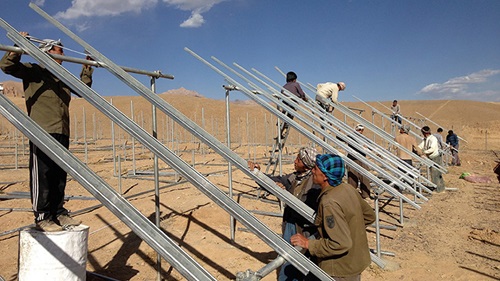 Workers rebuild the solar panel supports using bolts instead of welding.
Rebuilding, followed by start-up, resumed in spring 2017, with Vishram on site to provide guidance and support.
When wiring for the 400-kilowatt plant was complete—connecting the hospital to the solar plant about a half-kilometre away—Vishram watched as data from the solar system was delivered to an app on his cell phone.
"It's one of the latest and most modern solar systems in the world and it's performing much better than we originally predicted," says Vishram, who continues to monitor the system daily and provide virtual technical support as needed.
When it was first commissioned, the solar farm produced about 60 per cent of the hospital's electricity. At night though, a diesel generator had to be used when excess solar power—stored in 576 batteries—ran out.
In recent months, Vishram has worked with the hospital to add 25 per cent more battery storage capacity. "The goal is to use battery-stored solar power all night and reduce the need for a generator," he says.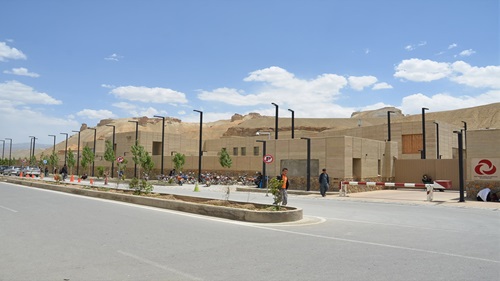 Bamyan Provincial Hospital, funded by the Government of Canada, the Aga Khan Foundation of Canada, and the Government of France, is a state-of-the-art facility powered by solar energy—and a great spot for a game of pick-up soccer after dark.
Building for the Long-term—And Not Just Solar Panels
As a professional engineer, working with the latest solar technology was a great learning opportunity, says Vishram.
"But more than that, the impact the project had on the hospital and the local people, especially coming right out of a war, has been the most rewarding," he says.
Vishram worked closely with the Bamyan-based solar contractor to help build local knowledge and skills—one of AKDN's long-term development goals. The contractor has since won other projects, including development of a 10-megawatt solar farm with more than 30,000 panels.
"There's long-term impact, not just with the solar projects, but with the training of the local people," Vishram notes proudly.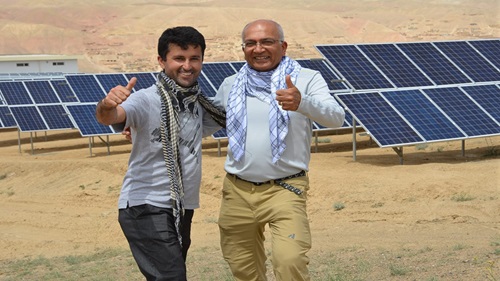 Faruq Vishram, P.Eng., (right) and the local Bamyan contractor celebrate the project's successful completion. "I get way more out of volunteering than what I put in," says Vishram.
On The Road Again
Over the past few years, AKDN has continued to make good use of Vishram's engineering talents and he's keen to help.
During a month-long visit in late 2017, he visited the country of Tajikistan, north of Afghanistan, to help develop a new solar plant at another medical clinic. He also travelled to Pakistan to provide support on a hydro project near the Chinese border, and spent time in Kabul, Afghanistan's capital city, working with a major cell phone company to design solar systems for cell towers at more than 700 locations.
The cell tower profits will help fund AKDN development projects. "AKDN has for-profit and not-for-profit models. One pays for the other," explains Vishram.
Most recently, in December 2019, Vishram spent three weeks in Dubai, Tajikistan, Pakistan, and Afghanistan supporting various projects of AKAH—the Aga Khan Agency for Habitat—a division of AKDN that addresses climate change impacts on vulnerable populations.
One of his stops was a town located along the Panj River in northeastern Afghanistan. The region once had some of the largest glaciers in the area, but they've receded significantly over the past 10 years.
"Climate change is having a huge impact, causing flooding in mountainous regions in Afghanistan and Pakistan, wiping out entire infrastructure of the local communities," he explains. "I've seen the impact it's had on some of the poorest people in the world. They never really participated in creating the problem, but they're paying the price for it."
AKAH is working to relocate thousands of people living in these high-risk areas.
New buildings—including housing, schools, medical clinics, and community centres—are being built in safe zones to support the climate refugees.
AKAH plans to power these facilities with solar energy and use geothermal energy for heating. It has tasked Vishram to come up with a "cookie cutter" design that can easily be scaled up or down as needed.
"They're looking at over 1,100 buildings," he says.

Also on Vishram's December trip itinerary:
A leadership workshop in Dubai—during which Vishram led a discussion on solar energy—to discuss future and current AKAH projects, and local solutions for greenhouse gas reduction.
A trip to the northern Himalayas in Pakistan to inspect a new solar project at a large medical clinic. "I was glad to make the 18-hour trip by road to actually see first-hand the impact of climate change in this area. Karakoram Highway was recently upgraded, but with permafrost melting at the high elevations, the highway is now in very bad shape, covered with landslides and major potholes," notes Vishram.
Visits to a school and medical centre in Khorog, Tajikistan, to investigate solar and geothermal energy options for the facilities.
Discussions with Pamir Energy, also in Khorog, to discuss development of a renewable energy program at the University of Central Asia and to finalize Pamir's plans for a major solar power plant in the mountain town of Murghab. Pamir, a division of AKDN, wants to diversify its energy portfolio, as the hydro power it currently provides has been heavily impacted by increased flooding.
An on-site review of a new solar project in Alichur, Tajikistan.
And a meeting with AKAH officials at the head office in Dushanbe, Tajikistan, to discuss renewable energy strategies and to review current and future projects, including possible work in Syria.
While these projects and the solar consulting work he does in Alberta are keeping him busy, Vishram is making time in his schedule for another special trip coming up in July.
This time, AKDN is sending him to a more familiar place—Kenya.
Full Circle
"It's going to be very exciting, going back home," says Vishram.
While in Africa, he'll make two stops: one to Kisumu, in Kenya, and other to Mwanza, in Tanzania. Like in Bamyan, AKDN is planning solar energy projects in these cities to power large hospitals, and Vishram has been asked to complete the front-end design.
"The goal—similar to other AKDN projects—is providing reliable, clean energy without diesel," he says.
Despite the hard work and long hours needed to bring the AKDN projects to fruition, Vishram has no plans to slow down his volunteer efforts any time soon.
The need for renewable energy hasn't stopped—and neither will he.
"There's some serious, important work that can be done, and it's rewarding, too. Life changing."
---
All photos courtesy Faruq Vishram, P.Eng.