A Milestone to Remember
The Member Milestones celebrations, held in Calgary on June 21 and in Edmonton on June 28, marked the professional achievements of two distinct APEGA groups: members were honoured with lifetime member status and members-in-training swore their oath, graduating to professionals.
In Calgary, 48 life members and 40 professional members were recognized, and 20 life members and 25 professional members recognized in Edmonton.
These celebrations were APEGA's first in-person events in more than two years, and for the first time, the event drew together members from the beginning and the end of their journeys as professional engineers and geoscientists.
The voices of the newly pinned professional engineers and geoscientists coursed strong as they stood to take their oath: "Through all my actions, I will serve society and enhance my knowledge and the dignity and status of my profession."
The proud applause of family, friends, and APEGA staff and Council reverberated for them as it did for the dedicated members receiving their lifetime member pins, having long served society and staying true to the tenets of that very same oath.
As each new and lifetime member carefully removed their pin from its velvet box to glint gold on their lapel, they and their guests dined and laughed. They toasted the amalgamation of the old guard heralding the new, elated that the future would remain in good and capable hands, full of possibility.
Becoming a licensed professional
Nazmus Sakib, P.Eng., a water administration engineer with the Government of Alberta, received his professional designation. Sakib confides he now feels ready to build his life and his family while he carries forward in a career he hopes will help better society.
"I feel like I have been given the responsibility to be ethical, professional, fair, and transparent through my processes. I can call myself a responsible person in the discipline and take care of the welfare of those I work with, whether it be stakeholders or clients. Through my work, I can do something that is meaningful and adds to the overall goodwill of the nation."
Transitioning to lifetime membership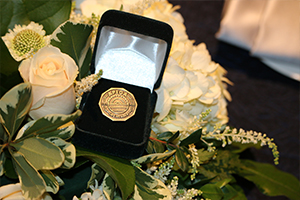 Dave Rumbold, P.Eng., received his lifetime member pin at the Edmonton Member Milestones Celebration.
Rumbold is a retired mechanical engineer who has volunteered in various capacities with APEGA for the past 30 years, including as part of the Practice Review Board, the AGM/Summit Awards Task Force, the Nominating Committee, the Special Committee of Council on Nominations, and the Act, Regulations, and Bylaws Committee.
He explains receiving a lifetime member pin is a transition: it's a moment when you realize you have truly retired by relinquishing your role as a practising professional. Although Rumbold is retired, he still affects the professions by leading the engineers and geoscientists of tomorrow through his volunteer work with APEGA committees and as the Chief Warden of Camp 6 of the Corporation of the Seven Wardens, which administers Edmonton's Iron Ring Ceremony.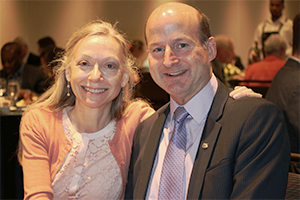 As he watched the new professionals confidently say their oaths, Rumbold felt gratified that he helped pass on a legacy of safety to a new generation of innovators, creators, and builders. "I know our future is in good hands.
I look at those young women and men becoming professional members with all the rights and responsibilities that brings, and I can tell they understand the importance of their impact. You know they have the tools, passion, and capabilities to keep things moving forward and take us to places we can't even imagine. It's a joyful thing."