A GLOEing Recommendation
Her confident tenor welcomes listeners to each podcast episode—Nicole Imeson, P.L.(Eng.), is a confident and revealing storyteller.
She highlights female engineers in the Glorious Ladies of Engineering (GLOE) and explains engineering failures and what we can do better next time in Failurology. These podcasts, which she partners with fellow engineers to record and host, fill a niche of the Canadian online broadcasting market.
As a child, Imeson would play a problem-solving game with her mother. Presented with a social or moral dilemma, they'd talk it through, and she'd have to come up with a solution. (If she was invited to two birthday parties on the same day, which would she attend?) The result: Imeson grew up to be someone who grins in the face of a challenge and plows forward, always game to try, to fail, to pivot, and ultimately, to learn.
Imeson's fail-safe
In Failurology, Imeson's first podcast, she focuses on real-life examples of engineering failures, discussing what went wrong and how to prevent them in the future.
She got the idea for Failurology when she found herself rushing through an ethical engineering textbook to read the case studies at the end of each chapter. She's fascinated with the failed processes—the reports of faults, the warnings ignored.
By focusing on these failures, she's not out to make the at-fault feel worse—she feels empathy for the engineers responsible. "They're human, right? People make mistakes, and that's why there are peer-review processes. That's why there are codes, and why city officials have jurisdiction. There are all these different stopgaps in place to prevent failures from happening, and so when things slip through the cracks, it's unfortunate, because every single failure we've covered is preventable. Every single one."
Imeson smiles and talks about how well the National Fire Protection Association's codes and standards are written, and how on-site issues get her jazzed because they're opportunities for collaboration. Now, she's using her passion for preventing failures, problem-solving, and podcasting to shift the engineering experience for women.
A balanced voice for female engineers
With only 10–15 per cent of professional roles in her company occupied by women, Imeson started to crave the comradery that comes with shared experiences. She is solution-oriented, so she set out to create a place to belong, quickly forming a team of five female engineers from Alberta and Ontario. They began interviewing female engineers from across Canada for GLOE, a space dedicated to women in the profession—with an atypical approach.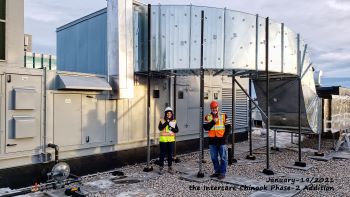 "I find it's hard because sometimes as women in engineering, you're focusing solely on the challenges, or it's rah, rah, everything's great and you're ignorant to the difficulties. I think there needs to be a balance." She says the GLOE team has tried to create a realistic picture of both advantages and disadvantages. They discuss what's worked in their careers and the careers of their guests.
She is struck by the commonalities she shares with women across the country in the profession. "You realize they have similar struggles to you. The circumstances vary, but women often have the same 10 issues, some of them worse or better in different spots. It was important to see that I'm not in a silo anymore. I don't feel like I'm all alone. I feel like there's so many of us going through the same thing. If we can just group together and inspire and build one another up, then we're going to take over the world."
A podcast of possibilities
Imeson has always gravitated to female voices. She did a social media challenge where she had to turn the spines of the books on her shelf inward if they had male authors—almost all her books remained in place. She listens to podcasts by female producers and hosts. She says she feels a kinship with women creators because they share similar experiences of moving through the world.
She is proud to be a voice amplifying the collective experience of women in male-dominated professions, and in the first season of GLOE, the possibilities for female engineers. The debut season focused on various engineering disciplines and the women who take on these specialties. "I thought it was important to showcase all the different things you can do in engineering. I'm a mechanical engineer, and people think mechanical engineering is all the same, but it's not—there are so many different specialties."
In season two, multiple female engineers will be answering the same eight questions, and each episode will focus on various interviewees' answers to one of the questions.
The GLOE team's goal is broad: to inspire girls and women to go into science, technology, engineering, and mathematics careers early on, and to show engineers in training that everyone starting out in engineering is learning. The team wants to extol the virtues of the career choice, highlight what could be better, and make alliances with those who can support changes leading to gender equity in the professions.
Imeson says the podcast is playing a role in empowering the very women creating it. One of the hosts has turned a side business into a full-time pursuit, another has found a new job where she is valued for her skill set, and another has earned her MBA. "I hope we inspired them to take chances because they weren't all alone. They had all of us behind them."
Women-led to success
Imeson cites the Women as Levers of Change study, saying that by 20 years of work experience and beyond, retention of women in the profession is dismal. She explains a variety of factors contribute: the glass ceiling, the glass cliff, lack of leadership opportunities, salary differences, maternity leave, or other types of leave. "Engineering doesn't accommodate a lot of those things—it doesn't accommodate a lot of flexibility or different work environments."
The study found that in male-dominated industries, only 18 per cent of executives identified as women. "The fun part about that study is they looked at the instances where women were in executive roles and leadership roles, and asked what benefits were employees getting? There was more transparency, there was more profitability, people were happier. So, the results say women in leadership is a good thing. Diversity in leadership is a good thing. Engineers are very data driven. Here are the math and the data, let's follow them."
GLOE and Failurology resonate as examples of Imeson's great desire to improve and do better, for herself, her fellow engineers, and the world around her. She's implementing her own processes and stopgaps to resolve the issues she sees in the engineering profession, using a method she's found successful since childhood—talking it through.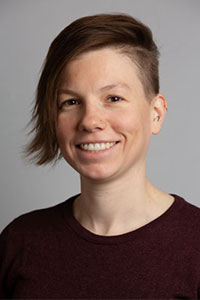 Nicole Imeson, P.L.(Eng.)
Tune In and Learn More
Listen to Imeson's podcasts and learn more about the experiences of women in the professions.