A Bridge to Bolster Reconciliation
The wind sweeps the tobacco out of professional geoscientist Keith Diakiw's fingers, floating it along the horizon before it disappears into the river, the sun-warmed sediments, the whispering sway of balsam poplars and lodgepole pines. The laughter of brightly garbed paddleboarders fades into the background and you feel warmhearted, grateful, and welcomed.
Before teaching about the natural and cultural history of Edmonton's river valley, Diakiw thanks Mother Earth for her gifts and the opportunity to learn by conducting a tobacco protocol, where tobacco is offered as part of prayer. Tobacco is respected as a sacred gift in Indigenous cultures, and is often used for spiritual and physical benefits in ceremonies.
Diakiw is an avid volunteer with APEGA, teaching children the wonders of geoscience as part of APEGA's Rock and Fossil Clinic. He is the owner of Talking Rock Tours, the company he's been focused on full-time since leaving his corporate geoscience job five years ago. His is a story of fulfilment, of building meaning into what he chooses to do each day—he explains he's providing reconciliation in action.
Connecting Métis knowledge and earth science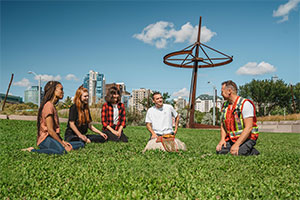 Diakiw's river valley tours begin on a bridge with a view of North Saskatchewan River currents coursing northeastward in bumps and flows. He's joining Métis heritage to geoscience, speaking to the history of the land geologically and spiritually—as an absolute piece of who he is. "I see myself now as that connector, the bridge from the past to the present."
When everything closed in 2020 due to COVID-19 restrictions, Diakiw made educational videos with the Edmonton Public Library. He saw an opportunity to reach people who were looking for new, virtual ways to learn. "The library is a wealth of knowledge for any age group, any demographic, and it's always welcoming. It's a very inclusive community." He has two videos with the library. In Indigenous 101: Flint Knapping, he talks with knapper Todd Brown about his work and the geological, historical, and spiritual meaning behind it. In Indigenous 101: Métis Culture, Josh Morin joins Diakiw to teach us about Métis culture via sashes, the Red River Cart, and Canada's first flag.
When he saw how popular the videos were, Diakiw decided to take his family on a road trip to make more: one in Dinosaur Provincial Park and one at Writing-on-Stone Provincial Park. He's loved road trips since childhood. "I always looked out the window and wondered how things formed, and why there's a difference in the landscape and a difference in the biosphere with all the plants and trees."
A current of learning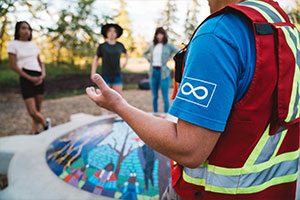 When restrictions lifted, Diakiw began giving in-person tours again. Recently, he's taken some elders and seniors from the Edmonton Aboriginal Seniors Centre on tours. "It's intimidating. They are all Indigenous people who are either knowledge holders or keepers." Walking through a burial ground with the group, he watched how they interacted with the space, in awe of their connection to their spirituality and to their shared ancestors.
He also holds custom or private tours for date nights, or for people simply looking to find new ways to connect with the land. "I think the public is now starting to realize that there's so much more to explore right in our backyard." He muses about combining his heritage and career in the heart of the river valley. "Over 10,000 years of continuous occupation from ancient to contemporary times lying in plain sight… I feel very blessed and honoured to share my growing knowledge—think of all the Indigenous history that underlies the land from before first contact, before the fur trade, and before Edmonton became the capital city. There is just so much to share with the public. Honestly, I never thought this would percolate into something special for people to enjoy."
Diakiw is grateful to share this knowledge in the spirit of reconciliation. He offers Indigenous-focused tours for students and teachers, and he holds elementary school workshops on rocks, minerals, and fossils. He says it's important to pass on earth sciences and Indigenous knowledge because "our children, your children, my children are the future."
A truthful history, an informed future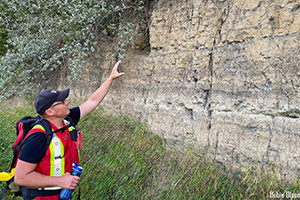 "The future of Mother Earth lies in the hands of our children," says Diakiw. In his opinion, rectifying the damage done by climate change starts with a holistic approach—educating younger generations on what they can do better by teaching them the sciences and their local history, showing how everything is interconnected.
He believes we must fight climate change as a global community. When faced with adversity, we need to have the same resiliency as our ancestors so we can leave a legacy of hope through cooperation. "Our ancestors worked very hard to get us here, and now the next generation carries the torch. Do what you're good at in the sense of your blessings while making a living, but find a way to serve others and make the world a little bit better."
A voice for his ancestors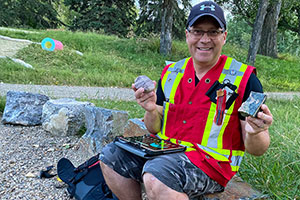 Diakiw himself is discovering more personal connections to the land. "My ancestors roamed from west of the Great Lakes to the Rocky Mountains, to Montana and North Dakota." He says he has chills when he learns a new piece of his history through conversations with his grandmother and a genealogy expert.
He's very proud to be a descendent of many Métis war heroes from the 1885 North-West Resistance, including Joseph Ouellette, Moise Ouellette, and Gabriel Dumont. "I recently learned my heritage is connected to the Assiniboine and Sarcee Peoples. Finding deeper ancestral links strengthens my connection with the information I share." He is contemporary a voice for his ancestors.
Indigenous tourism is rising in popularity, but Diakiw feels like the word tourism doesn't fully cover it—he considers himself an eco-geo tour operator but says, "There are so many layers, from how Indigenous people would like to identify, to Indigenous tourism becoming a defining term because we share culture and stories and only leave footprints." He picks up garbage on his tours and encourages others to do the same.
An intentional tour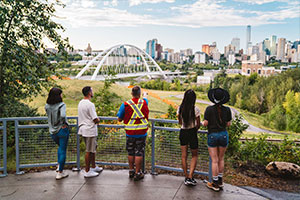 Talking Rock Tours brings depth to tourism—more than just seeking a selfie in a beautiful place, it's learning the history and spirituality of the land we walk upon. "I'm connecting the natural wonders to the local Indigenous Peoples and adding parts of the history of Canada we were not taught in school to the modern urban landscape, which is all that most people see."
He says for many Indigenous tour operators, the business is about more than bringing in revenue—it's personal, it's about good intent, and it can be emotional. He shares a piece of himself on his tours and offers the space for others to share commonalities, differences, and stories. He explains the best form of learning is face to face on the land, stating, "It's a powerful way to enrich minds in making a difference."
Diakiw considers himself a life-long learner and is slowly filling his bucket of ancestral knowledge while acting as pebble in the pond, creating a ripple of change. He likens each person who joins him in learning as a ripple, and each person they teach is another ripple. "It starts with you," he says.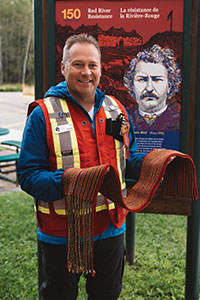 Check Out Diakiw's Videos on Indigenous History and Geoscience
Visit the Talking Rock Tours website for more information.
Watch Diakiw's Edmonton Public Library videos:
Learn about geoscience in Alberta from Diakiw: