1940

:

Howard J. McLean, P.Eng.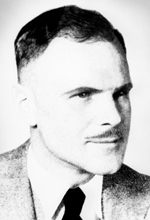 After serving with the Royal Flying Corps during the First World War, Howard McLean joined the water resources and irrigation branch of the federal Department of the Interior. He was hired by Calgary Power Ltd. in 1926 as a construction engineer and eventually became production superintendent.
In 1942 he headed east, joining the Montreal Engineering Company where he became chief construction engineer in 1953 and director of construction eight years later. He held this post until retiring in 1966.
During his career McLean was closely associated with the construction of all Calgary Power's plants from the Ghost plant in 1928 to the Brazeau development at the time of his retirement. While with Montreal Engineering, he was involved in hydroelectric projects in most parts of Canada, notably the Far North, and also in South America.
McLean was registered with the Association of Professional Engineers of Alberta (APEA; now The Association of Professional Engineers, Geologists and Geophysicists of Alberta) in 1925 and served on council for six years beginning in 1935. He was elected vice-president in 1936 and 1939 and president in 1940. He passed away in 1967.