2021

:

Brian Pearse, P.Eng., FEC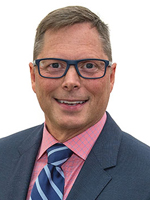 Brian Pearse, a professional engineer, has been an APEGA member for more than 30 years. He graduated from the University of Alberta with a bachelor of science in agricultural engineering in 1986. He began his career with Stewart, Weir & Co., where he worked in various capacities such as surveyor, site inspector, design engineer, and engineering manager.

In 2006, Pearse became vice-president of engineering at Stewart, Weir & Co. and oversaw the corporation's engineering practices of transportation, environmental, geotechnical, and industrial across Alberta. As the company grew, he assumed a new role of chief business officer, through which he led human resources, corporate services, facilities, quality management, and strategy—groups that impacted the entire company—and assisted with the establishment of new offices in British Columbia and Australia.

In 2010, Pearse became chief executive officer of the company until it became part of Opus International Inc. in 2013, at which time he was named president of Opus Stewart Weir and led the company's transition to the global corporation it became.

An APEGA councillor from 2012 to 2014, Pearse also served as APEGA Council vice-president in 2014–2015. He volunteered as a member of the APEGA Nominating Committee in 2015–2016, working as part of a team to review Council's requirements and identify candidates with matching skills and attributes, and to ensure candidates running for Council best represented the membership.

Pearse retired from full-time engineering consulting in 2016. In January 2017, he began assisting First Nations groups in Western Canada with project completions as a part-time corporate lead for the Canadian Indigenous Collaborative. He was also a board member of the Peerless Trout First Nation Development Corporation in 2019.