2016

:

Steven (Steve) E. Hrudey, P.Eng., PhD, FEC, FGC (Hon.), FCAE, FRSC, FSRA, IWAF, AOE, CM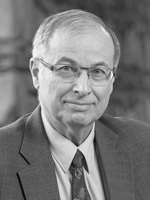 Dr. Steve E. Hrudey, P.Eng., was born and raised in Edmonton, Alta. He obtained a B.Sc. in mechanical engineering at the University of Alberta in 1970 before earning an M.Sc. and a PhD in public health engineering from Imperial College, University of London, in 1971 and 1979, respectively. He was awarded a D.Sc. career academic degree from the University of London in 2002 and an honorary D.Sc. from the University of Alberta in 2012.
Dr. Hrudey lives in Canmore, Alta., and consults nationally and internationally on a range of environmental health risk issues. He has been an APEGA member since 1970, and his consulting firm has been an APEGA permit holder since 1983. He served on the practice standard subcommittees for writing the first Environmental Practice guideline and the Management of Risk in Professional Practice guideline and was first elected to APEGA council in 2012.
Dr. Hrudey started his career as an environmental regulator before joining the University of Alberta in 1975. He spent 13 years as a professor in the Department of Civil Engineering before moving to the Faculty of Medicine in 1988 to establish an interdisciplinary environmental health program, retiring as Professor Emeritus in 2008.
He served 13 years as a member of the quasi-judicial Alberta Environmental Appeals Board (EAB), his final four years as chair. At the EAB, he was engaged in chairing several public hearing panels and also served as a mediator.
He has served on 28 national and international expert panels on science and public policy issues, 10 of them as chair. Several of these were related to drinking water safety, most notably the research advisory panel for the Walkerton Inquiry from 2000–2002. He and his wife, Elizabeth J. Hrudey, are the authors of two books that examine cases of drinking water contamination in developed nations, and the lessons to be learned from major failures.
Dr. Hrudey has been honoured with several awards, among them the American Water Works Association's top research award and a Queen Elizabeth II Diamond Jubilee Medal, both presented in 2012. He received an APEGA Summit Award for Research Excellence in 2013. He was named a fellow of Engineers Canada in 2015, and an honorary fellow of Geoscientists Canada in 2016.
On October 19, 2017, he was invested to the Alberta Order of Excellence. This is the province's highest civilian honour, recognizing those who have served Albertans with excellence and distinction.