2015

:

Connie Parenteau, P.Eng., FEC, FGC (Hon.)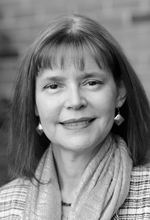 Connie Parenteau, P.Eng., FEC, FGC (Hon.), was raised and educated in Edmonton. She graduated from the University of Alberta in 1980 with a B.Sc. in electrical engineering.
Parenteau had a 33-year career with TELUS Communications where she held a variety of technical, managerial, and leadership positions. She worked on key initiatives, such as TELUS TV and Next Generation Networks, and acted as a Responsible Member for the TELUS Corporation permit to practice for more than 15 years.
Parenteau became an APEGA Member in 1980. In 1993, she was the recipient of the APEGA Early Accomplishment Summit Award. She was elected to Council in 1994 and served as Vice-President for three terms. She was granted the Engineers Canada Fellowship in 2009 and the Geoscientists Canada Fellowship (honorary) in 2013. She also served on several committees and task forces for APEGA.
During her tenure as President, Parenteau oversaw the review of the Engineering and Geoscience Professions Act and steered the development of the 2017–2019 strategic plan. She believed that APEGA should focus on becoming a stronger regulator while enhancing membership engagement and recognition.
Parenteau was also actively involved in the Council governance renewal, which streamlined the Council committee structure. She led a Council working group that considered the need to have ethics regularly refreshed and understood by Members to ensure public safety.
She advocated the importance of being involved in professional and community affairs – many of her speeches reflected on the value of volunteering and being a leader in the community.
Throughout her career, Parenteau has been active in non-profit organizations related to the performing arts and literacy. She has made many contributions to a variety of social community services, and by supporting numerous endeavours, she has acted as a role model to encourage gender diversity in the professions.