2011

:

James (Jim) E. Smith, P.Eng., FEC, FGC (Hon.)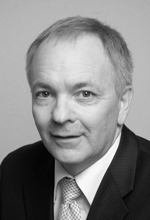 Jim Smith was raised in Edmonton, Alta. In 1972, he received his chemical engineering degree from the Faculty of Engineering at the University of Alberta and became a member of The Association of Professional Engineers, Geologists and Geophysicists of Alberta (now The Association of Professional Engineers and Geoscientists of Alberta).
Smith enjoyed a successful 32-year career with Procter and Gamble and Weyerhaeuser leading engineering and construction organizations and operations management in their manufacturing organizations in Alberta and the U.S. Southeast.
He held a wide range of senior leadership roles in plant and corporate systems design, business planning and organization development. In 2008, he was instrumental in founding the Centre for Research and Innovation to which he provides manufacturing and project consulting and innovation services for small and medium-sized enterprises and entrepreneurs.
Since retiring, Smith has been an active volunteer with the association. He became president-elect in 2010 and president in 2011. Prior to that, he was a councillor from 2006-07 and vice-president in 2008. He served on the finance committee (2007), governance committee (2006-08) and strategic planning committee (2010-11). He is actively involved in branch activities, is a mentor in the APEGA mentoring program and was a member of the board of examiners from 1993 to 2010. In 2012, he led the CEO search group that selected APEGA's new chief executive officer. That same year, he was awarded Honorary Life Membership in the association.
Smith is committed to upholding APEGA's reputation as a role model for self-regulated professions. He has undertaken several roles in Engineers Canada to increase his knowledge of the national organization and its constituent members. Most notably, he served as vice-chair and chair on the Canadian Engineering Qualifications Board committee. He was named a fellow of Engineers Canada in 2009 and an honorary fellow of Geoscientists Canada in 2013.
In addition to serving his profession, Smith has been active in his community as a Rotarian and as a volunteer on school and not-for-profit committees. He is dedicated to professional and community service and volunteers in the following capacities:
member, AQUATERA Utilities Board (2011-present)
director, Grande Prairie Chamber of Commerce (2010-present)
chair, Grande Prairie College Foundation Board (2003-2009)
member, Greater Grande Prairie Community Foundation Committee (2005-present)
executive director, Peace Region Economic Development Alliance – Innovation Network (2003-2007)
chair, Canadian Engineering Qualifications Board and Engineers Canada Committees (2000-2008)
past director, Grande Prairie United Way
Rotarian and volunteer, minor hockey and soccer coach and on school parent council and committees