2009

:

W. James (Jim) Beckett, P.Eng., FEC, FGC (Hon.)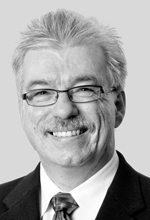 Jim Beckett was raised and educated in Edmonton, and graduated from the University Of Alberta Faculty Of Engineering with a B.Sc. (with distinction) in electrical engineering in 1973.
Beckett was employed by the ATCO Group of Companies for 35 years. As executive vice-president, regulatory, and chief regulatory officer, he developed regulatory strategy for the utility companies of the group, which included ATCO Electric, ATCO Gas, ATCO Pipelines and CU Water. He was a frequent witness before the regulatory commission responsible for utility regulation in Alberta and also appeared before B.C.'s utilities commission.
Beckett held a number of management positions within ATCO Electric and its predecessor Alberta Power. For several years, Beckett was the APEGGA responsible member for ATCO Electric. As such, he was involved in ensuring that the requirements of the permit to practice were met and in mentoring engineers within the organization.
He became an APEGGA councillor in 2005 and was the chair of several high-profile APEGGA council committees. He became president-elect in 2008 and president in 2009. He has been a member of the association since 1973. In June 2010 he was designated a fellow of Engineers Canada for his service to the profession and in 2013 he was named an honorary fellow of Geoscientists Canada.
In addition to his work with APEGGA, he is an ardent supporter of the University of Alberta and has served on the board of governors, engineering faculty advisory board, senate and alumni association. He is also an alternate warden for the Camp 6 Iron Ring Ceremony.